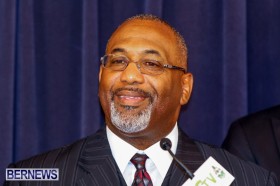 In a blog post entitled "Educational Disaster Pending in Bermuda: Edmond Heatley is Named Commissioner of Education. LOL!", the "Georgia Teachers Speak Out" blog has slammed the appointment of Dr. Edmond Heatley as the new Bermuda Commissioner of Education.
"We actually had heard that the little Caribbean country of Bermuda had a pretty good public education system. Not for long," said the post.
In 2009 Dr. Heatley was named the Superintendent and Chief Executive Officer of Clayton County Public Schools in Georgia, and left the post three years later after what one news report called a "tumultuous three-year tenure".
The American educator was selected from some 70 applicants to take over the Commissioner of Education position, replacing Wendy McDonell, who held the position since 2009.
Speaking at his formal introduction earlier this week, Dr. Heatley said: "I am sure that some of you have done a Google search on my name and know that there are some controversial comments about me out there.
"Yes, I too, know what's on the Internet and in the Blogs and I want to note that none of it is based on accurate information and fact.
"The reality of the matter is that anyone in a leadership position will have people who agree with their direction and leadership, as well as, those who disagree with the decisions that are made.
"Unfortunately, some people feel it appropriate to attempt to garner support, however appropriately or inappropriately through social media."
Read More About
Category: All