The Jamaican Association of Bermuda is hosting its 2013 Independence Cruise on Saturday [Aug 10] on board the MV Bermudian. In celebration of Jamaica's 51st anniversary of Independence they will be hosting a live performance on board by Jamaica's Tinga Stewart.
Part proceeds of this cruise will go towards the Bermuda Hospital Charitable Trust to aid with their building fund initiative for the new hospital and the Kingston Public Hospital [KPH] in Jamaica as per a commitment made three years ago by JAB to aid in the improvement of the female ward at same Institution.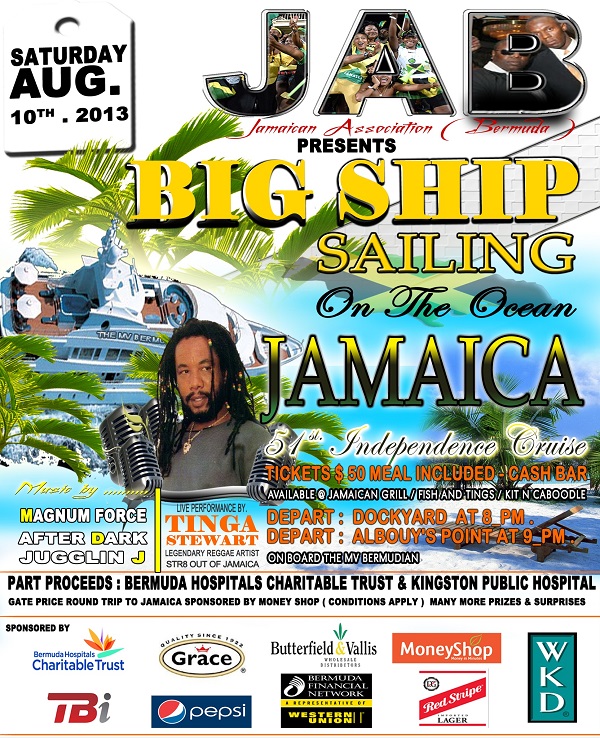 Tinga Stewart born Neville Stewart, in Kingston, Jamaica 1955, is a reggae singer. Stewart won the Festival Song Contest three times, twice as a singer and once as a songwriter. Stewart's career began in the late 1960s; his first single being 1969′s "She's Gone", with Ernest Wilson of The Clarendonians. He worked with producer Derrick Harriott in the early 1970s, with releases such as "Hear That Train".
He sang with The Wildcats, Byron Lee & the Dragonaires, and The Boris Gardiner Happenning, then went solo and had a local hit in 1973 with "Funny Feeling", and won the 1974 Festival Song Contest with Ernie Smith's "Play de Music", which went on to become a hit on both the Jamaican chart and the United Kingdom reggae chart. The following year, Tinga wrote "Hooray Festival" with Willie Lindo, the entry sung by his brother Roman Stewart, which also won. This success led to releases in the UK on the Opal label.
A spokesperson said, "JAB is excited to be having Tinga Stewart performing live on our annual Independence Cruise this year made possible through collaboration with Apache Promotions. It is the hope of JAB that this event will live up to the expectation of being our most successful cruise especially as we partner with the Bermuda Hospital Charitable Trust [BHCT] to assist in promoting this event amongst their employees. One of the significance of this event is that it will be on the back of Jamaica's famous Rock Reggae superstar Beres Hammond and internationally renowed Shabba Ranks performing live in Bermuda.
"We believe as a prominent part of our culture, reggae music has the influence of uniting people of all races and backgrounds and we have no doubt that having these three well accomplished Artistes performing on island within a time of our Independence celebration that it will serve to foster greater unity and oneness within the community.
"Of recently, the cities of Black River in Jamaica and Hamilton Bermuda signed a Friendship Agreement which will see the exchanges of cultural and economical undertakings between both cities. JAB welcomes this partnership in its fullest as we are cognizant of the mutual benefits that can be derived from this agreement . It is our hope that the Jamaican Independence cruise and other events to be held during the course of this year and years to come will provide a platform for sharing in many of these areas.
"JAB is therefore calling on Bermuda, despite cultural differences or background to unite with Jamaica in a spirit of oneness and Love as we celebrate this momentous milestone of Independence and also as we strive to be the first Cultural group to partner with BHCT in assisting their efforts of raising $40 million Dollars geared towards the hospital's building fund. We take this opportunity to also invite other Cultural groups on Island and the wider Bermuda in general to join in the Cause of supporting the BHCT with their building fund initiative. Having us united on this worthy Cause is without a doubt a win-win approach for the entire Island in creating a legacy of a world class Hospital for us and future generations to enjoy.
"Come out Bermuda, please join us as we celebrate in the Spirit of One Love, One heart, One People."
Read More About
Category: All, Entertainment