On Sunday [Aug 11] The Bermuda Bicycle Association held a bicycle road race through St. Georges and St. David's. The race was well attended with nearly 70 riders competing in 7 categories.
The course began at the Gun Powder Tavern, negotiating through the town of St. George, continuing to the St. David's lighthouse, back across the Causeway to the Swizzle Inn and returning to Gun Powder Tavern.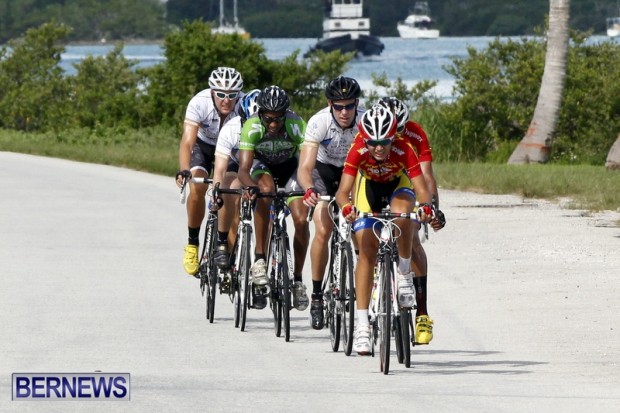 The highlights of the race included a clean sweep for Team Tokio in the Open A, a close and exciting finish in Open B with only .014 milliseconds between 1st and second place, and the women's race being thrown wide open when two main contenders took a wrong turn.
The full results are here [PDF] and the top three in each class are listed below:
Open A Class: 69.5km
1st place Mark Lombardi
2nd Place Johan Vivier
3rd place Matthew Ackland.
Adult B Class: 53.5km
1st place Matthew Claridge
2nd place [by .014 seconds] Barry Murphy
3rd place Luis Martin
Adult C Class: 30.5km
1st place Terry Thomas
2nd place Alex Godfrey
3rd place Ian Henderson
Women's Category: 30.5km
1st place Wenda Roberts
2nd place Earlina Ingham
3rd place Andrea Proctor
Junior A Class: 30.5km
1st place Tyler Smith
2nd Zion Dowling
3rd Dylan Hill
Junior B Class: 15km
1st place Nahje' Smith
2nd place Malik Joel
3rd place Senoj Mitchell
Junior C Class: 7.5km
1st place Eusebio King-Mills
2nd place Alexander Miller
3rd place Mailik Smith
A spokesperson said they wish to send special thanks to the entire community of St. George's for their understanding, Fast Forward Freight and Kaisa Construction for providing extra volunteers as road marshals, all of the members and family members of the Bermuda Bicycle Association for their help in keeping the roads safe, the BPS, the corporation of St. Georges, BDLC and the residents of St. David's and Southside as well as W&E for cleaning the roads.
Click photos to enlarge:
Read More About