Underwater Hockey came to Bermuda in July when Sandys 360 Centre hosted a demonstration for interested players. The unusual sport form has participants all over the world, but visiting Swiss national team player Philipp Hupp's training session and demonstration game were a first for the 10 swimmers who attended.
Sandys 360 Aquatics Director Victor Ruberry said, "We wanted to introduce something new to Bermuda's water sports scene, although we were unsure what to expect from something that sounded so strange – Underwater Hockey.
"However, it turned out to be not only great fun but very demanding physically. Certainly some of the elements can be incorporated into our usual training sessions. It remains to be seen if we can generate sufficient interest to put together a trial team."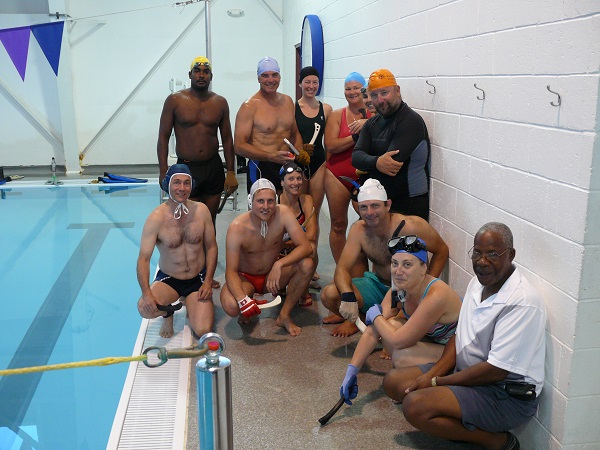 Bermudian Warren Cabral who originally suggested the demonstration commented, "I do hope it will take off in Bermuda. It is open to anyone – any age or gender. I'm 52 and have been playing Underwater Hockey in Zürich for the past few months. It's amazing. The oldest guy in the club is in his 70's and the youngest in his early 20's.
"In between are men and women of all ages – and equally matched, as it is not about strength." Cabral is a doctoral student at the University of Zurich, and says he found the sport a great way to keep fit and learn new skills. "The main thing is breath control", said. "Anyone who can dive will have an advantage. But you don't have to be a great athlete. Just competitive and happy underwater."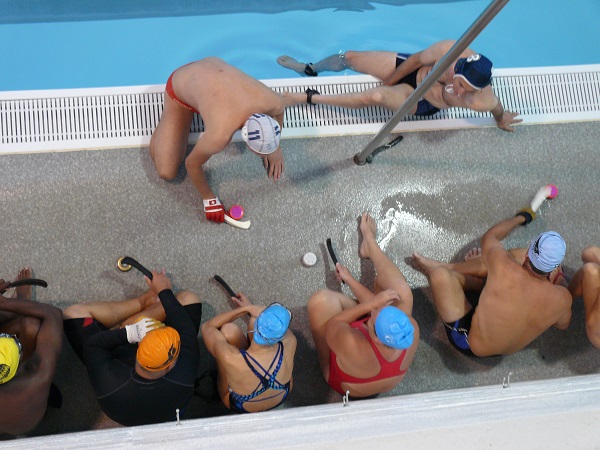 Underwater Hockey is played with mask, fins and snorkel in the shallow end of a swimming pool. A puck very similar to an ice hockey puck is shoved along the bottom of the pool towards a goal. Two teams of up to five each battle it out under water, holding their breath during play and only surfacing to take a few gulps of air, follow the game and re-join the action.
"After my visit to Bermuda, I am going to the World Underwater Hockey Championships, taking place in Hungary," said Philipp Hupp. "I have been playing for several years now, having taken up the sport when I was studying at Georgia Tech in the States."
Hupp is a native of Germany but now resides in Zürich, Switzerland where he is studying for a doctorate in information technology. He is Men's Captain of the Zürich Underwater Hockey club and represents Switzerland at international matches.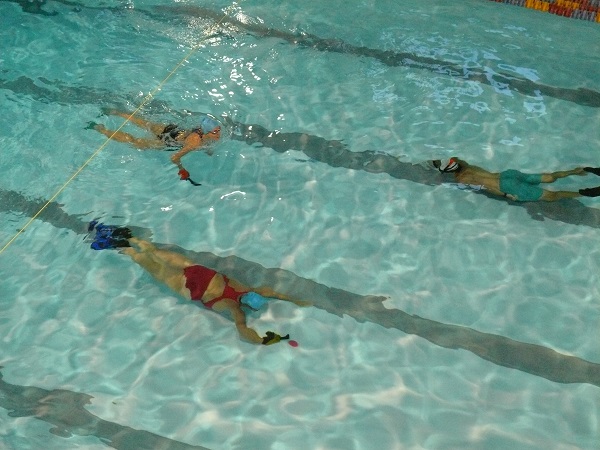 Mr Hupp said, "So far this year we have been to Barcelona, Munich, Toulouse and other places. It's a very social sport, though there is not much for spectators to see as the action happens underwater. On the other hand, a quick look at You Tube will make it clear how exciting the game is, with a lot of competitiveness, as well as sophisticated playing techniques."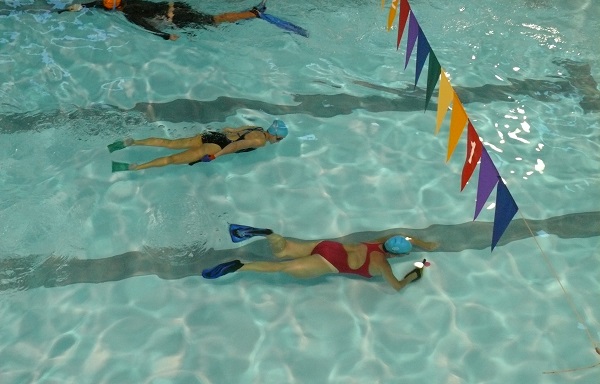 According to Stephanie Lee, Marketing & Communications Coordinator of Sandys 360 Centre, the West End community sporting complex hosted the demonstration as part of its broader mission to encourage Bermudians to keep fit and discover alternative water sports.
"We were delighted to have Phlipp and Warren come out to us in July, and were even more pleased to hear what a success the evening was. We encourage anyone with an interest in Underwater Hockey to contact Victor Ruberry at vruberry@logic.bm," said Ms Lee.
Read More About