The Bermuda Under/15 National Team arrived back in Bermuda last night [Aug 27] after taking part in the inaugural CONCACAF Under/15 Tournament in the Cayman Islands.
Bermuda finished 4th and won the Fair Play Award, after progressing through the group stage with five consecutive victories against Cayman Islands, Aruba, the Bahamas, the US Virgin Islands and St Maarten.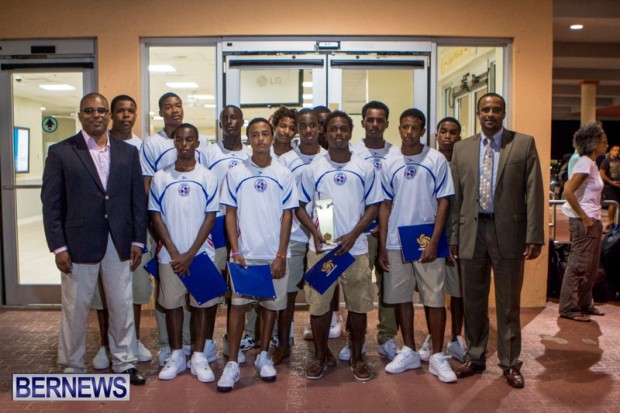 Family, friends, Minister Wayne Scott, Opposition Senator Diallo Rabain and the President of the Bermuda Football Association Larry Mussenden were on hand to greet the players.
Mr. Mussenden thanked the players and coaching staff for representing Bermuda so well, and also thanked the parents for being supportive. He presented certificates of participation to all the players as their parents cheered them on.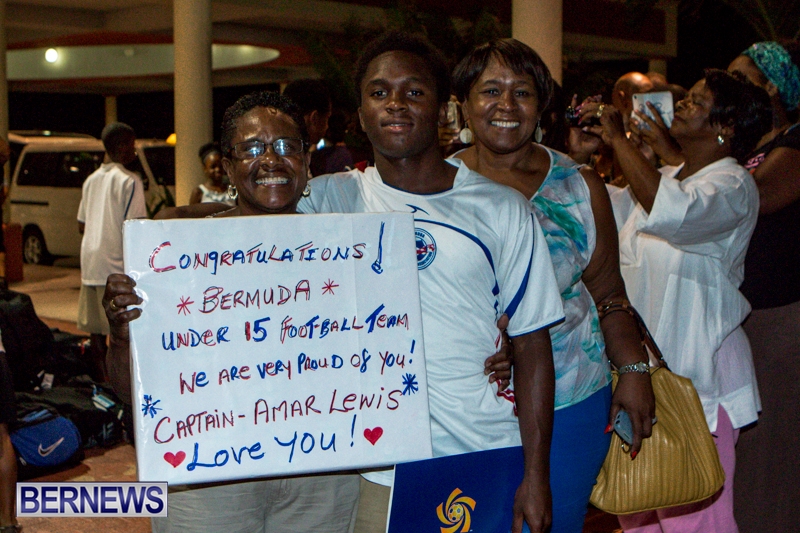 Minister Scott said, "These guys have done a phenomenal job, and congratulations to all of you," while Senator Rabain said, "When we look at what these players have done at this Tournament, we cannot be anything but proud of them."
Team Captain Amar Lewis said, "I just want to thank everyone for the support. It has been a long trip and we might not have come first, but next time in the actual World Cup we will do much better.
"I want to thank all the coaches for their support. It has only been six weeks we have trained together and we came up with a really good result…so thank you everybody."
The tournament involved over 20 teams from Antigua & Barbuda, Aruba, the Bahamas, Belize, Bermuda, the Cayman Islands, Curacao, El Salvador, Grenada, Guadeloupe, Guatemala, Haiti, Honduras, Jamaica, Martinique, Puerto Rico, St. Kitts & Nevis, St. Lucia, Saint Martin, St. Maarten, St. Vincent & the Grenadines, Trinidad & Tobago and the US Virgin Islands.
CONCACAF said the Championship — which will be held every two years — is expected to strengthen the love of the game among young players and foster a commitment to the sport that will grow along with them.
Read More About