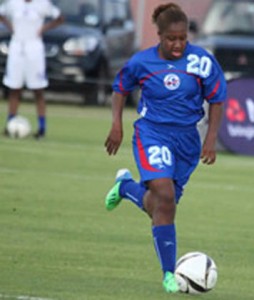 Calling her a "rising star in women's football," the Caribbean Football Union's website is featuring an article on Bermuda's own Aaliyah Nolan.
"Sixteen year old national striker, Aaliyah Nolan of Bermuda, has been creating waves at the Women's Under-17 and Under-20 levels of the Caribbean Football Union [CFU] Qualifying Tournaments, where she scored hat-tricks in both competitions," the report said
"She scored her first hat-trick in the CFU Under-20 Competition against Curacao – the only three goals scored by Bermuda in that Competition – and went on to score another hat-trick in Group One of the CFU Under-17 Competition against the Bahamas. This latter effort helped her team to reach the Finals, due to be held later this year."
The Berkeley Institute student is presently in Haiti with the Bermuda National U17 team, who have done extremely well thus far, going through to the semifinals of the CFU Women's Under 17 Cup by virtue of a 1-0 victory over Trinidad and Tobago and a 3-1 win over the Dominican Republic.
The Caribbean Football Union is the official governing body of Caribbean football Associations and Federations. The CFU is comprised of 31 Member Associations, representing sporting and administrative talent in the English, Dutch, French and Spanish-speaking Caribbean
Click here to read the full article on the Caribbean Football Union's website.
Read More About