The narrative short film competition is now open for the 17th annual Bermuda International Film Festival [BIFF], scheduled to take place from March 21 to 27, 2014.
Filmmakers from Bermuda and around the world are encouraged to enter the 'Bermuda Shorts' competition as BIFF is recognised by the Academy of Motion Picture Arts & Sciences as a qualifying festival in the category of Short Film [Live Action]. The Bermuda Shorts Award is juried by a panel of industry experts.
David O' Beirne, Director of Programming at BIFF, says, "BIFF remains committed to showcasing the best in independent cinema from across the globe. We are excited to once again launch the international search for the brightest emerging talent in the film industry.
"Our 'Bermuda Shorts' category is the festival's sole competition section and we are proud of the reputation for quality of selection we have built since becoming an Academy qualifying festival in 2004. We have been successful in choosing two Bermuda Shorts winners that have gone on to win an Oscar, "Wasp" in 2005 and "Toyland" in 2009."
Julia Loktev [left] and Eva Orner [right], both award-winning filmmakers who sat on the BIFF 2013 jury, with Andrew Stoneham [centre], BIFF's festival administrator.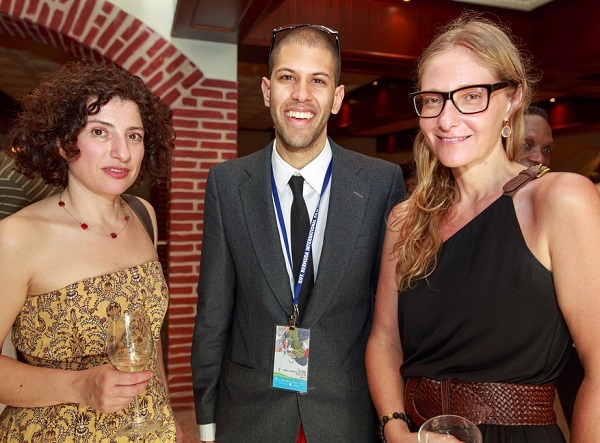 Online submissions are preferred by BIFF here, a cost-saving secure paperless system used by many international film festivals. For further details on how to enter a film, visit here.
Entries must be under 41 minutes in length and have been completed after January 1, 2013, to be considered for selection. Previous television or internet broadcasts will disqualify a film for the Bermuda Shorts Award. The rules for eligibility for the Short Film [Live Action] category of the Academy Awards are available here.
The British 15-minute film, "Indoor," directed by Adam Townley and Simon Atkinson, was selected as the winner of the 2013 Bermuda Shorts Award from over 30 contenders that screened in competition.
Read More About
Category: All, Entertainment, Films/Movies