Yesterday [Sept 17] the Centre on Philanthropy hosted their fifth annual Give Back Games beach-style Olympics on Horseshoe Bay.
The event saw 10 corporate teams representing 10 local charities compete for prize money for their chosen cause. Validus Re swept to the finish by gaining the best scores over some ten games including the Flipper Relay, Dizzy Bat, Blindfolded Water Relay, and other intensely fun games aimed at testing the competitors' athleticism.
At the end of the event, over $53,000 was shared between the teams for their charities. The second place winners, Partner Re, won $7,000 for the Menuhin Foundation, while the third place winners, Guy Carpenter, won $5,500 for YouthNet; all other companies won $4,500 for their charities.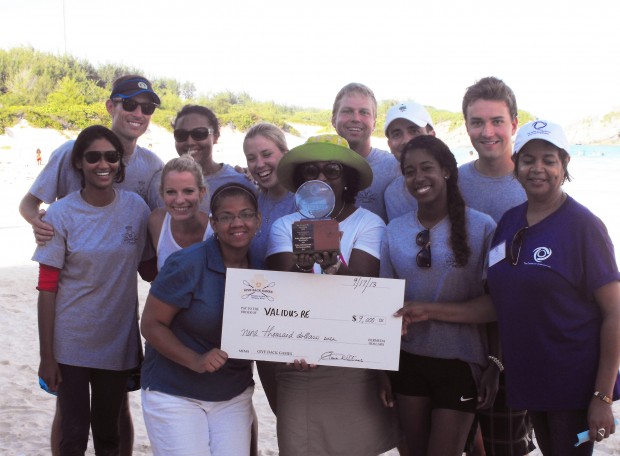 Participating companies and their charities were:
Ace Tempest Re, supporting Teen Services
Arch Reinsurance, supporting Centre Against Abuse
Argo Re, supporting Bermuda SPCA
Axis, supporting The Eliza Dolittle
Catlin, supporting SCARS
Guy Carpenter, supporting YouthNet
Tokio Millennium Re, supporting The Reading Clinic
Validus Re, supporting Coalition for the Protection of Children
XL, supporting Bermuda Cancer and Health
Partner Re, supporting Menuhin Foundation
Over 120 people took part in this year's Give Back Games, including charity representatives who helped organise and score the events, plus many other volunteers who did everything from set up to driving the beach buggy.
"The Give Back Games is a great opportunity for companies to team build while competing against other companies in a fun-filled event to support charity. The event shows how much fun giving back can be and provides the opportunity to raise awareness about the important work being done by Bermuda's non-profit sector," a spokesperson said.
Read More About