[Written by Laurie Fullerton] With Australian Max Quirk leading with 15 points at the end of the first day, the field remains wide open with Manon Van Dijk in second place with 30 points and Bermudian Campbell Patton in third place with 31 points.
Forty-nine young sailors were off to a jump-start today at the 11th annual RenaissanceRe Junior Gold after some nervousness caused general recalls in the first two of the four races. After completing four races in 9-10 knot conditions on the Great Sound, competitors from 16 countries as well as Bermuda sailed well throughout changing wind conditions on the first day of completion and will come out stronger tomorrow.
Junior Gold Cup Fleet Photo Credit: Charles Anderson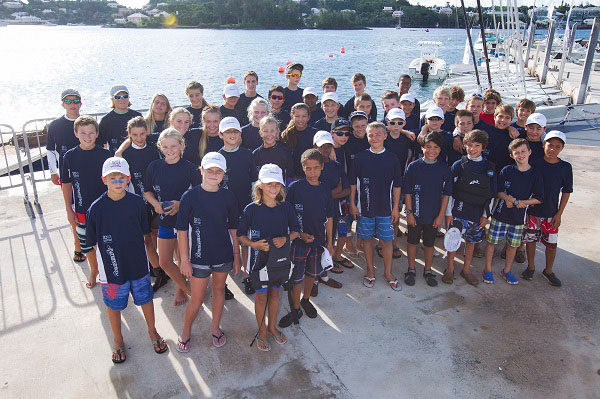 While some of the competitors were racing in their first ever Junior Gold Cup, others like Milo Gill-Taylor of Great Britain, currently in 5th place, was returning for his second year.
"I really didn't feel like I sailed that well today and I didn't really shine at all but I guess I was consistent after all," Gill-Taylor said. "I didn't realize I was in fifth place until just now."
"I was really happy out there racing today," said Patton, 12, who started very well on the crowded line. "It wasn't anything special except that I really played the shifts most of all. I think the key for me as well is that I sailed in the middle of the course most of all. I feel like I had great starts and really stayed with the fleet."
49 young Opti sailors started the Renaissance Re Jr Gold Cup Thursday. They are from Bermuda and 17 other countries with 15 of them national champions at home. Photo Credit: Somers Cooper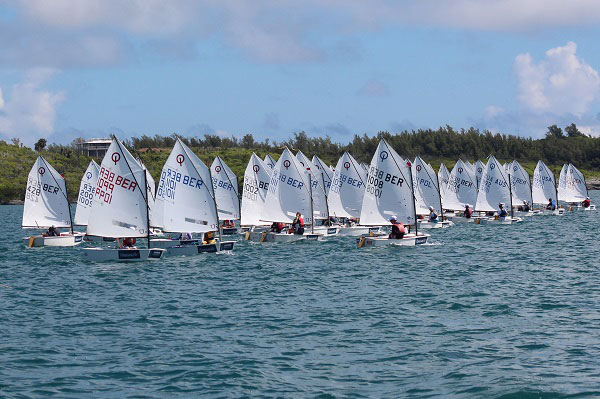 Because the lighter winds sometimes favor the younger sailors, Bermuda's Felix Cutler, 11, took full advantage of it and came out sailing his best races ever, he said. According to Cutler, this was the first time he had ever really been "in the hunt" at an international regatta and he says it was "really exciting."
"I have never been up there before," Cutler said. "I feel like I sailed my best ever in competition. I did pay attention and once I felt like I was doing well, I really paid attention and that helped me a lot."
While the Junior Gold Cup level competition is often a learning curve for the Bermudians against international sailors, this year the locals are really showing their muscle with many youngsters from the home team performing well. Others, like nine-year old Leyli Walker, is competing in her first Junior Gold Cup event. was "It was pretty fun," she said. "It felt like our Sunday races and it really was interesting and not that hard." For Yannick Hiillier, "the racing was great and once I put my mast strake further back I was able to concentrate more. It was a good day."
Other Bermudians like Cecilia Wollmann now in 13th place said that the racing today was "not my best as the light air does not favor the bigger kids." At 15, Ceci is competing in her very last Junior Gold Cup but has her sights set on the Bytes.
Emil Jarudd from Sweden, also fifteen noted that "the two last races were much better for me as there was a lot more wind. At age 15, I don't sail as well in the lighter conditions."
The Optimist fleet struggled with their starts today and getting off the line but with some of the international sailors over early, it did leave a window of opportunity for many of the local sailors.
"All of our young sailors – from young Chris da Silva, Rian Geraghty-McDonnell, Jay Hall and Leyli Walker, all first timers in the Junior Gold Cup, sailed very well," said coach Tom Herbert-Evans, who just finished competing himself in the Argo Group Gold Cup today. "And Felix Cutler sailed brilliantly as did young Campbell Patton. They really were great today."
Read More About