The Bermuda Monetary Authority is bringing together another top quality line-up of financial services experts to speak at its fourth annual International Regulatory Forum.
This year's event will take place at the Fairmont Hamilton Princess Hotel on Tuesday, 19th November, with opening remarks from the Premier Craig Cannonier.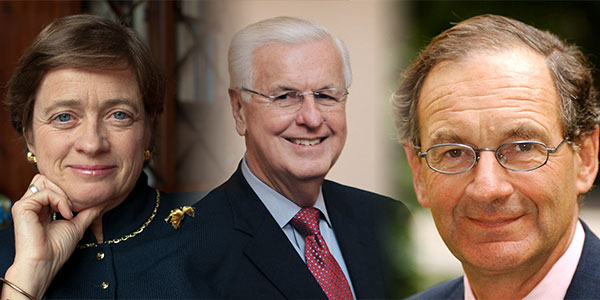 The Keynote Speaker for the one-day event will be Dame Amelia Fawcett [pictured], Chairman of the Hedge Funds Standards Board, the global standard-setting body for the hedge funds industry. Panel sessions will cover banking and asset management issues in the morning and insurance developments in the afternoon.
Panel speakers will include Commissioner James Donelon [pictured], President of the National Association of Insurance Commissioners [NAIC] in the US, and Sir Andrew Large [pictured], former Deputy Governor of the Bank of England.
"The BMA is fortunate to once again have a range of highly recognised speakers from the top of their respective fields joining us," said Jeremy Cox, CEO of the Authority.
"They will be sharing knowledge and strategic insights on global regulatory issues that are highly relevant to the Bermuda market. We're very pleased to have attracted this group of leaders from Bermuda and overseas for the event, and happy to facilitate access to additional pertinent information for the local financial services sector via the Forum."
The following topics will be up for debate:
Banking supervision and global financial stability – addressing short-term risks to reach long-term success
Regulatory priorities vs. business development in the asset management arena
Global regulatory initiatives for commercial insurance and implications for the Bermuda market
Misperceptions around risk transfer vs. 'shadow insurance' in relation to the captive sector
The future of alternatives in risk transfer for both regulators and the market
Other local and international panelists include:
William Murden, Director, International Banking and Securities Markets, US Department of the Treasury
Michael Consedine, Insurance Commissioner, Pennsylvania/ NAIC
Tim Selby, President and Director, New York Hedge Funds Roundtable
Gareth Murphy, Chairman, Investment Management Standing Committee, European Securities and Markets Authority [ESMA]
Robert H. Myers, Partner, Insurance Group /Morris, Manning & Martin, LLP
Craig Fowler, SVP, Offshore Reinsurance, Transamerica Group of Companies/ Bermuda International LongTerm Insurers and Reinsurers [BILTIR]
Liz Frederick, Director, Global ILS Practice Group Leader, Aon
Andre Perez, Founder, Horseshoe Group; Lixin Zeng, CEO AlphaCat Managers, Validus Group
Frank Majors, Principal and Co-founder, Nephila Capital
The moderator team for the 2013 Forum will be
Karel van Hulle, International Centre for Insurance Regulation;
Arthur Wightman, Partner, Insurance Leader, PwC;
Lawrence Bird, President, Bermuda Insurance Managers Association;
Derek Stapley, Director, Bermuda Business Development Agency;
John Lester, Partner, Oliver Wyman.
In addition to Craig Swan, Managing Director, Supervision, other participants from the Authority's Executive team will include:
Shanna Lespere, Director of Operations;
Shauna MacKenzie, Director, Policy, Legal and Enforcement
Shelby Weldon, Director, Licensing and Authorisations.
Registration for the Forum will begin at 8:15 a.m. and sessions will conclude at 5:30 p.m. Registering for panel sessions is free, however tickets for the Keynote Speaker luncheon are $30; space is limited and anyone wishing to attend the event or seeking more information is advised to contact communications@bma.bm.
Read More About