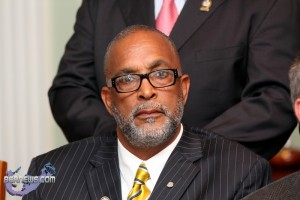 The City of Hamilton's Deputy Mayor Donal Smith and City Manager Edward Benevides met with H.E. Sheik Abdullah Alireza, a Saudi businessman who formerly served as Saudi Arabia's Minister of Economy.
The meeting took place in New York, and they discussed ways in which they might strengthen Bermuda's business and cultural relationship with Saudi Arabia and with the vital financial markets of the Gulf States.
Deputy Mayor Smith said he was delighted to be able to issue an invitation to Sheik Alireza to come to Bermuda to attend a special luncheon and series of meetings hosted by the Corporation.
"We want him to join us and to experience the City's and our Islands expertise for himself and to discuss the ways in which we might enhance Bermuda's role within the Middle East in general and in Saudi Arabia in particular," said Mr. Smith.
Mr. Smith said that the City of Hamilton is home to a number of firms who already do business with the Middle East and doubtless, to many who would like to do business in this vital part of the world.
"It is the right time, we believe, to have the Corporation of Hamilton play a more proactive role in joining the government to improve Bermuda's connections to world markets like the Middle East and for the remainder of this year and certainly next year we intend to reach out vigorously to world business leaders like Sheik Alireza and to have them know first hand the many opportunities the City and the Island affords," said Mr. Smith.
He said that Bermuda has always been a logical conduit between the U.S. and the Middle East markets.
Mr Smith continued, "We certainly have much in common with the market of the Gulf States in terms of our organizational structure and as a leading international financial centre able to anticipate and complete an array of financial and insurance related business .
"The City is home to such world wise talent and we have so much to offer them from our financial services and, of course, we can provide world class opportunities in our hospitality sector. But we must be more vigorous in the ways in which we promote these opportunities. Hence our meeting in New York with Sheikh Abdullah Aliresa.
"We are delighted to learn the Premier Cannonier will be in London to attend an Islamic financial conference and we look forward to joining with him and the Minister of Finance in sharing ways to creating a greater awareness of the many opportunities that Bermuda affords Islamic and so many other world investors."
Read More About