[Updated] Google has added undersea Street View imagery of the wreck of the paddle steamer Mary Celesta to Google Maps, allowing the general public to get a look at one of Bermuda's most famous shipwrecks without even getting their feet wet.
The Marie Celesta is one of Bermuda's most celebrated and infamous shipwrecks. A civil war era paddle steamer purpose built to run the Northern blockade to supply the Confederate South, she sank off Bermuda in mysterious circumstances in 1864 while being piloted by Bermudian – Mr. John Virgin.
An archaeologically significant site, the Mary Celesta is also one of the most heavily dived historic sites in Bermuda and is a significant point of interest for divers and historians with a passion for the history of the American Civil War.
Click here to explore what remains of the Mary Celesta via Google Maps.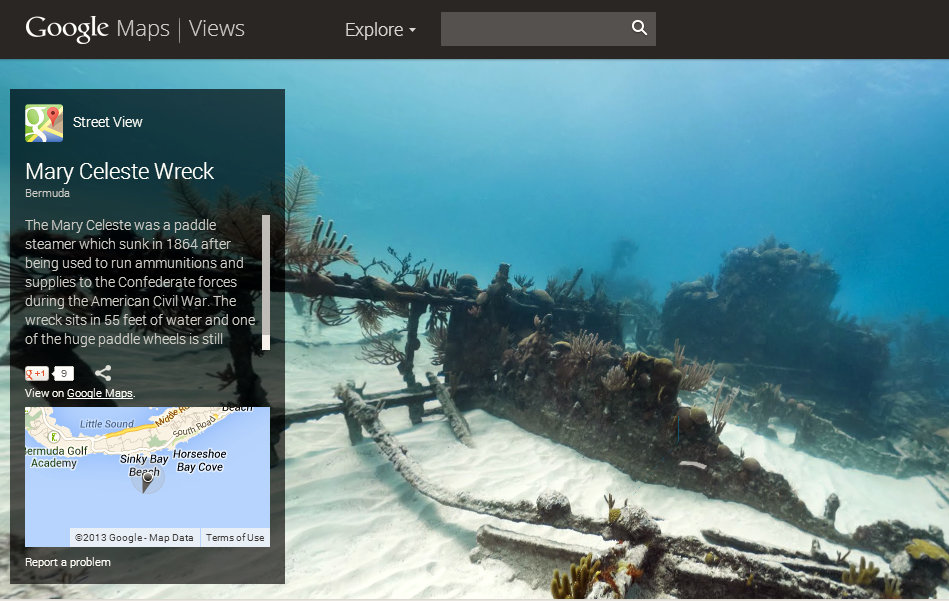 Update 12.03pm: Speaking on the matter, Custodian for Historic Wrecks Dr. Philippe Max Rouja said, "We picked the best spots to photograph, narrowed down the best tide for water clarity and then guided the Catlin team on the best way to shoot the wreck…and the results are just incredible.
"The Mary Celeste is our signature wreck and with it being the 150th anniversary of the Civil War it is especially relevant. It is also the first shipwreck on Google Street View that I know of."
"The benefits of having the wreck on Google Street View are that it gives international exposure to one of Bermudas greatest assets," said Dr. Rouja. "Plus it gives us a record of what it looks like today and as we know that this wreck is exposed to extreme weather and will not always look this way.
"In short, it is a great way to preserve what it looks like now while also promoting diving in Bermuda as broadly as possible."
The Catlin Seaview Survey is sponsored by Catlin Group Limited, a specialty insurer and reinsurer that is domiciled in Bermuda.
Graham Pewter, President and Chief Executive Officer of Catlin Bermuda, said: "I am pleased that the scientific research that was conducted by the Catlin Seaview Survey in September off Bermuda can be used not only to protect Bermuda's coral reefs, but also to help promote Bermuda to a worldwide audience."
Read More About
Category: All, Environment, News, technology