[Written by Laurie Fullerton] The third day of racing in the RenaissanceRe Junior Gold Cup was a true reversal of fortune for the competitors who saw a 100-degree wind shift during the second race leaving those on the right side of the course in a strong position – while those leading the race fell behind as the breeze was snuffed out on their side of the course during the final race of the day.
Renaissance Re Junior Gold Cup leader, Australian Max Quirk, 14, has sailed consistently in a somewhat inconsistent regatta for other competitors and is still in first place with 92 points. He is 26 points ahead of second place Milo Gill Taylor who has 118 points, and third place Lukas Hesse of Germany with 86 points.
Hattie Rogers Photo Credit: Laurie Fullertin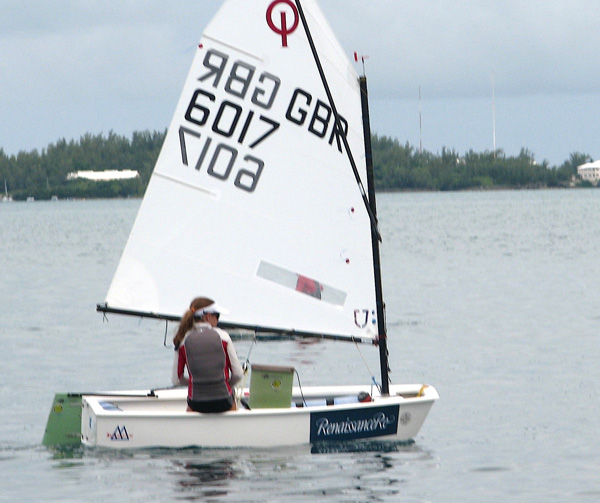 "I went a little too far to the right hand side on that second race and when the wind did a major shift I found myself in 10th place," Quirk said. "I had a challenging first race where I sailed through dirty air and played the shifts so that I made it from the back of the fleet to seventh place in the first race. In the second race there were a lot of sailors who fell back after the wind shift but I was fortunate. I feel you have to take what you are given. It might not have been a standard race, but it is still racing around the course."
For Milo Gill Taylor of Great Britain, the racing has been increasingly better for him particularly race one today. "I was really happy to get a solid result and I was particularly happy with the results of my first race because I beat Max today," Gill Taylor said. "I first met Max at the worlds. I have really wanted to win against him and I did so today. I can say that I came here to this regatta and I wanted to win it. Racing against sailors like Max means that there is a lot of competition for me and I like that, too."
Max Quirk Photo Credit: Charles Anderson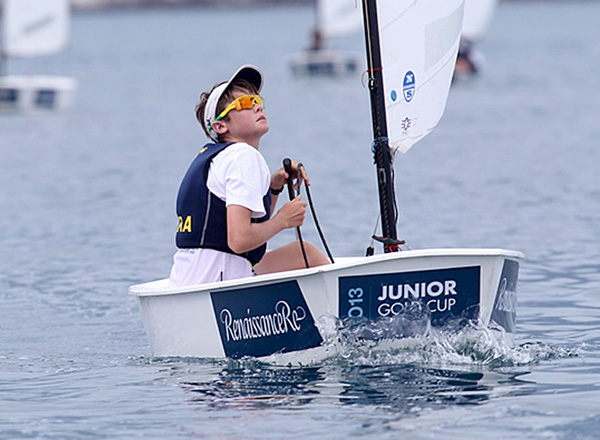 One of the true benefits for young Gill-Taylor at this event is that he has been staying as a guest in the same home as four-time Gold medalist and 2013 America's Cup winner Sir Ben Ainslie who is here competing in the Argo Group Gold Cup.
"It has been very cool because he and Iain Percy are so normal. They are just like us. And, they have given me the impetus to keep going in sailing."
Hattie Rogers, also of Great Britain, is currently the top girl and in sixth place. She agreed that she felt that it was great to be meeting and getting advice from sailors like Sir Ben Ainslie. "For me, it is great to have people like them around us that really inspire us. Today, for example, was not a good day for me on the course but one day doesn't knock you down. It is still good fun being here."
Sailing has gone well for Henry Haslett of New Zealand although on the scoreboard he is in the middle of the fleet. Haslett has also benefited from Gold Cup competitors and his mentor this week has been Chris Steele of New Zealand who made his debut at the Gold Cup this week.
"I was really happy with the first race," he said. "I rounded the top mark in 17th place and slowly moved up."
Bermuda sailor Campbell Patton is having a strong regatta and staying consistent. He is currently the top Bermuda boat standing in seventh place.
No matter how skilled the sailors are at this year's Junior Gold Cup, there is always a learning curve – whether it is on the course or in the jury room. Because the second race was a difficult one to call because of clocking winds, some of the sailors felt that it should have been thrown out and protested the race committee but the decision to score the race stood.
"This is a very important part of life skills and if they want to go through with protesting the race committee than we feel it is part of the process," said Royal Bermuda Yacht Club coach Paul Doherty.
For both race committee chairman Francis Carter and for the sailors – it has been a test of both skill and patience throughout this week.
"We have had 17 countries represented, 49 kids on the line, 10 general recalls, and one black flag," said Carter. "The starts have been very aggressive and we have been forced to use the flags to hold the kids back. I think the young competitors are eager and testing the limits and it is all part of the learning process. For me, I have never been protested before and today I have had seven protests filed against me. It has all been very interesting."
Somers Cooper- the regatta director- agrees that the protest room is part of the process in sailing. "The sailors are naturally competitive youngsters, and high achievers in their own countries," Cooper said. "The sport is governed by rules and sometimes the rules need to be interpreted. "
The final race of the Renaissance Re Junior Gold Cup will take place on the Argo group Gold Cup course on Hamilton Harbour. It will be sailed between the Gold Cup petite finals and finals.
Read More About