[Written by Laurie Fullerton] The winner of the ReniassianceRe Junior Gold Cup was decided in the final race on Hamilton Harbour with Milo Gill-Taylor of Great Britain finishing in fourth place today but earning the necessary points to win the overall regatta with 84 points.
"Today was the best part of a really great week and I had really hoped to come to Bermuda and win this event," said Gill-Taylor. "I learned a lot by coming here and I really enjoyed it. Gill-Taylor placed six points ahead of second place finisher Max Quirk of Australia who just had to stay in the top 10 to win it but in his final race he did not sail his best race and ended up in second place overall six points behind the winner.
Milo Gill-Taylor [center] wins the 2013 Renaissance Re Junior Gold Cup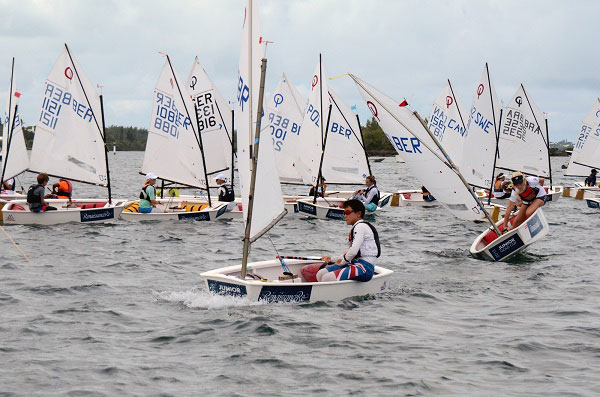 "I mainly got stuffed on the first beat and I thought I was OK but then Milo got a shift and pulled away. Basically, I ended up getting stuck on the right and going around the bottom mark with a bunch of other sailors. That is when I think I shot myself in the foot," Quirk said. "But, I feel like I finished on a high and still did really well when I look over the fleet – there were so many good sailors here."
For Hattie Rogers of Great Britain, her final race today was a true triumph as she was the first to cross the line on Hamilton harbor in view of the entire spectator fleet. Her win today put her in fifth place overall. She also won the top female trophy as well as the Anniversary Trophy for her first place finish today.
"It was amazing to come in first on Hamilton harbor," she said. "Really incredible."
Hatti Rogers [GBR6017] the topgGirl in the Renaissance Re Junior Gold Cup: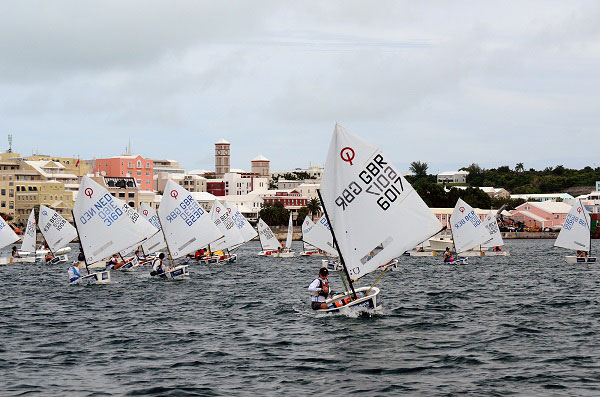 Third place in the regatta went to Lukas Hesse of Germany and fourth place belongs to Emil Jarudd of Sweden.
All of the sailors benefited this week from the advice and time spent with sailors like Sir Ben Ainslie and Iain Percy who gave them invaluable suggestions. "What really helped me a lot before today was what Iain Percy told us about not being nervous – about the fact that we were nervous before a competition," Rogers said. "He said the nervousness could be a good thing. That was really helpful and I kept thinking of that today."
Campbell Patton of Bermuda also took many of the helpful words from his sailing heroes, and finished the overall event as the top Bermudian in seventh place.
"Iain Percy had a little talk with me this morning and that helped me a lot. He gave me some great advice and then Ben talked to me, too," Patton. "Having those guys here all week was amazing. It was really so helpful and inspiring."
For young Leyli Walker, who is only nine years old, the event really opened her eyes. "I thought it would be hard, but it was really fun. I think that right now sailing is my favorite thing to do," she said. Leyli is the granddaughter of Jordy Walker who co-founded the match-racing event in its current format.
The legacy of the Renaissance Re Junior Gold Cup is really starting to change the sailing experience for both the adult sailors and the youngsters who come here. A number of the adult competitors came here as Junior Gold Cup competitors and returned as adult sailors.
"I believe that the standard of racing here raises the bar for these youngsters in the Junior Gold Cup as they meet the older competitors as well," said Peter C. Durhager, Executive Vice President of RenaissanceRe. "They learn about what comes after Optimist racing and they begin to perform at the level of these professionals in many ways – at a young age. They are competing as youngsters here but it is very rare to get the chance to see what is waiting for them next and they get to see that at this event here in Bermuda."
Event organizers Somers and Dede Cooper agree that seeing these young people shine "is very inspiring. It is a privilege for me to be able to do this event," Dede said. And, "it is such a great sense of accomplishment because we make so many young people so happy. It makes a lot of the work really worth it," added Somers Cooper.
[Photo credit: Talbot Wilson]
Read More About