[Written by Laurie Fullerton] A fall classic returns to Bermuda's shores on Oct. 10-13 with the 11th annual RenaissanceRe Junior Gold Cup – a championship of champion's event for the world's top Optimist dinghy sailors. With 13 international champions from 17 countries overall, the world's best will compete in a regatta that includes some 40 Bermudians ranging in age from nine to 15.
The RenaissanceRe Junior Gold Cup, held at the Royal Bermuda Yacht Club ,not only offers many young Bermudians their first taste of international competition, this event is clearly emerging as fertile ground for future world-class sailors. Because it coincides with the Argo Group Gold Cup – the penultimate race on the World Match Racing Tour – the youngsters meet, watch and learn from the best match racing sailors competing today. And many are in fact alumni of past Junior Gold Cup's including 2012 Gold Cup winner Taylor Canfield of the US Virgin Islands who is returning this year to defend his title.
Last year's RenaissanceRe Junior Gold Cup, photo by Talbot Wilson: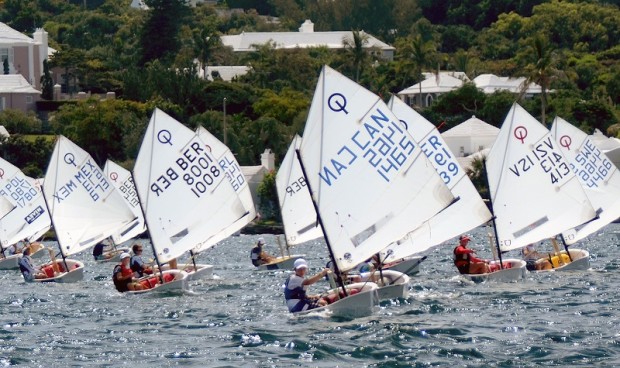 This event is key to Bermuda's sailors in that it gives them international experience. They are training in excellent sailing conditions all year round together with experienced, qualified coaches, but lack an extensive and varied group of other Optimist sailors to race against. It is always a huge learning curve for a young sailor to have the chance to line up against some top-level sailors from other nations.
This year's RenaissanceRe Junior Gold Cup features top international sailors including Lukas Hesse, 14, of Germany who was 7th in the 2013 IODA World Championships. Additional top competitors include Milo Gill-Taylor, 13, the 2013 UK National Champion, Max Quirk from Australia, and Enrique Saavedra from Mexico. In keeping with this event, when last year's 1st and 2nd place competitors were from Ireland and Argentina respectively, these two countries have sent strong competitors in Harry Durcan of Ireland and Santiago Duncan of Argentina.
For Bermudians, this will be the last Jr Gold Cup event for Ceci Wollmann, who is moving to the Byte where Bermuda has just qualified for a spot in the in the Youth Olympic Games in China in 2014. Her 9th place finish at this year's IODA North American Championships make her one of this event's top sailors. She will also sail in the Bermuda Nationals.
Additionally, young and upcoming sailor Campbell Patton, 12, is one to keep an eye on. He was 2nd at the Canadian Nationals behind Canadian Jack Rieder, also here for Junior Gold Cup, and travelled all summer sailing regattas in Italy, UK and Canada.
There will also be something electric happening for Bermuda's RBYC and Bermuda Optimist Dinghy Association (BODA) Squad this coming Saturday with Sir Ben Ainslie of Great Britain – who has won this event twice –running a special clinic for the Bermuda Opti sailors the weekend prior to their Junior Gold Cup races.
"Sir Ben Ainslie is broadly recognized as the best sailor in the world. He has proved himself to be a winner at all levels of the sport starting at Optimists, progressing to Youth, National, International, Olympics and now the America's Cup. Five Olympic Medals was already an inspiring achievement, but now the America's Cup as well," said Ben Nicholls, who is the chairman of Junior Sailing at the RBYC. . "Sir Ben and Bart Simpson grew up together sailing in Optimists, they went on to win Olympic Gold Medals and to compete at the America's Cup."
"There will not be a child in the room who will fail to be inspired by this true legend of our sport. I believe Sir Ben will encourage the kids to believe in themselves and to believe that if there is something they want to achieve, it is up to them to go and achieve it," Nicholls continued. "A champion delivering that sort of message will inspire them to go off and sail their hearts out at the Junior Gold Cup."
While Junior Gold Cup racing occurs for three days on the Great Sound, the final race of the event occurs on Sunday in Hamilton harbor in front of the large spectator fleet gathered for the finals of the Argo Group Gold Cup. After competing away from the crowds, the final race in front of the television cameras is unique to this event and sometimes life-altering. According to 2012 Gold Cup Champion Taylor Canfield, the final race of the Junior Gold Cup did give him a taste for match racing that has stayed with him to this day. It is likely that other Junior Gold Cup alumni will agree.
"Taylor Canfield – who is ranked no 1 in the world – is of course the most famous Junior Gold Cup graduate to date and is back to defend his title," said Somers Cooper, who is the event director of the RenassainceRe Junior Gold Cup. "And, closer to home, during this year's Bermuda Match Race Nationals to qualify for the Gold Cup, the top three skippers were all graduates of the Junior Gold Cup."
A Junior Gold Cup winner in 2005, Josh Greenslade won a spot in the Argo Group Gold Cup this year, after sailing against Lance Fraser. Fraser, also a Junior Gold Cup alumnus, is now working at the Chicago Match Racing Center in Chicago with Taylor Canfield. The third sailor was Jesse Kirkland, 2012 Olympian in the 49′er class and Junior Gold Cup participant. All three of these sailors will be racing in this year's Gold Cup.
This championship of champions event is continuing to be not only the first taste of international competition for some Bermudian youngsters it is also fast becoming a chance for our sporting legends to return and give back to the next generation. Whatever the outcome, watching young Optimist skippers at the top of their game sail with heart and soul put on the line is always a huge and unique part of this event.
Read More About