[Updated] Alternative Energy Systems Ltd. [AES] has introduced their new solar leasing programme, which allows the recipients to have solar energy installed at their homes with no up-front cost.
It allows homeowners to reap the benefits of green energy and enjoy the long-term rewards of making their own power and being less dependent on traditional energy sources.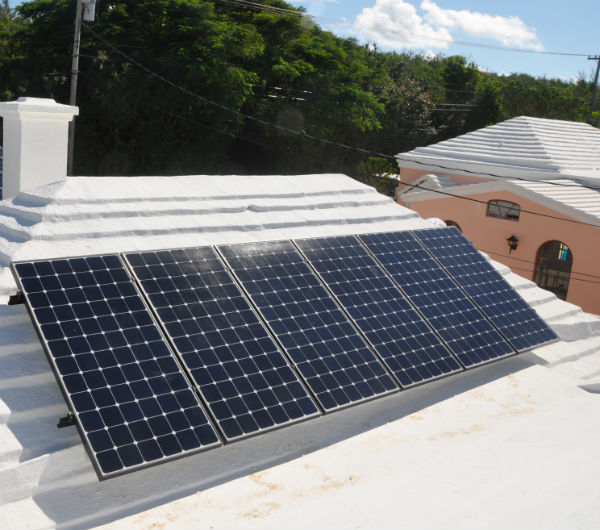 The Company said, "The SunPower Solar Starter Kit that is being offered to launch the leasing programme includes six high-efficiency SunPower 240 watt ACPV panels, a SunPower web-based monitoring kit, all government fees, permitting costs, complete installation and commissioning of the system. There are no up-front costs to the customer.
"SunPower Maxeon all-back-contact solar cell technology captures up to 50 percent more sunlight and generates more energy than all other conventional front-contact panels.
"These panels feature an industry-leading 25-year workmanship warranty and a 25-year power guarantee. The web-based monitoring kit allows homeowners to keep track of energy production in real time from anywhere in the world using a computer or smart device.
"The 1.44kW system will produce approximately 2,200kWh of energy per year, and requires only 80 sq. ft. of roof space."
Tim Madeiros, CEO of AES, says the company is excited to introduce this programme to the Bermuda market so as to further the growing interest in solar energy.
"In the past year we have seen a phenomenal move to solar power in the residential market in Bermuda. To continue the momentum AES is introducing this financial mechanism to further encourage the transition to solar technology among Bermuda residents," said Mr Madeiros.
"It is AES' goal to make solar technology accessible to everyone in Bermuda, which in turn will reduce the island's reliance on expensive imported oil that significantly drives up our cost of living and operating a business. This leasing programme offers a fresh, modern approach to the energy industry in Bermuda."
Update 2.21pm: When asked about the ongoing costs for the leasing programme, AES didn't provide specifics, however said: "the costs will be less than energy saved so the customer can realize an immediate savings on energy."
Read More About
Category: All, Business, Environment