One eclipse chaser managed to compile a time-lapse series of photographs of the partial solar eclipse earlier this month, joining other sky watchers in capturing photographs of the sun's progression from the horizon even as part of it was hidden in shadow.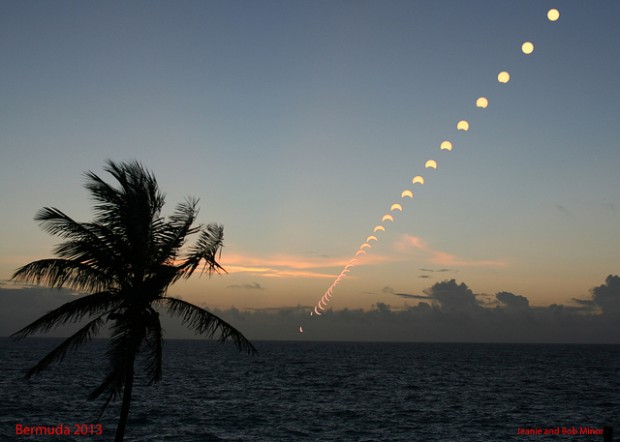 The photographs were taken by Bob and Jeanie Minor from their position at the Coco Beach Hotel, before being compiled to show a time-lapse effect, giving viewers a full look at the full progression of the solar eclipse.
According to Sky and Telescope, when the Moon passes directly between the Sun and Earth, the usual outcome is either a total or annular solar eclipse.
"But the event on November 3rd is something of a hybrid. At the point in the North Atlantic where the Moon's umbral shadow begins its dash across Earth, about 1,000 km east of Jacksonville, Florida, an extremely well-placed observer would get to see a vestigial ring of Sun surrounding the Moon's silhouette for a few fleeting seconds just after sunrise.
Video – Solar Eclipse Observation aboard a chartered Falcon 900B jet at 44000 feet:
The video above shows the action onboard a private jet, which was chartered by a group of dedicated eclipse chasers to get the best possible view off the coast of Bermuda.
The group flew in to Bermuda in advance, and then left the island onboard a 12-person Falcon 900B private jet early this morning to watch the eclipse from 43,000 feet over the Atlantic, and 600 miles off Bermuda.
Read More About
Category: All, Environment