Only one week after shattering the Bermuda National Record in the 100m freestyle, Roy Allan Burch has lowered the record yet again, this time dropping it to 49.27 during a meet in Bolzano, Italy.
As Burch broke the record twice last week [in the preliminaries, and again in the finals] this is technically the third time in a week the swimmer has set a new record.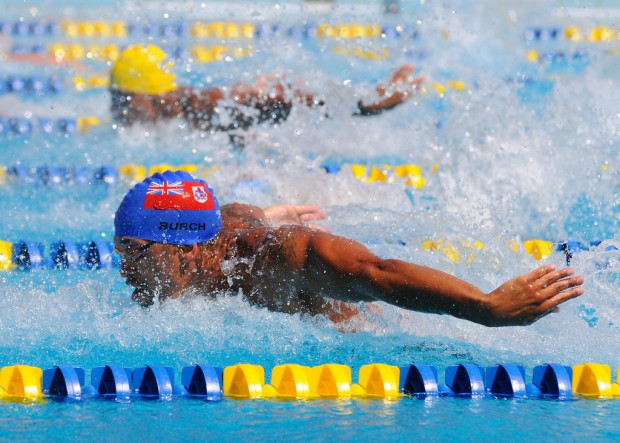 Last week, he set a new record time of 49.29 to win a silver medal during an Italian swim meet.
He previously held the record of 50.66, a time he set when winning his heat at the 2013 World Championships in Spain. That time broke the old record of 51.01 he set back at the 2011 World Championships in China.
The two-time Olympian is aiming for his third Olympics, and received a boost towards that goal when Digicel Bermuda stepped up with a $7,200 per year sponsorship package leading up to the 2016 Olympics in Brazil.
Speaking after his record breaking swim, Burch said: "I was able to sneak under my record again which I was very happy about. I attempted to swim under 49 seconds which would have been another huge barrier for me while still under heavy training.
"The pain in the last 15m was tremendous and I believe I made a few mistakes which caused me some time. I also swam out of the first heat so I wasn't pushed by the field."
- File photo by Doug Patterson
Read More About