The student body and staff of CedarBridge Academy recently witnessed an outstanding production of Julius Caesar by William Shakespeare produced by students of the Drama Department, and directed by Mrs. Patricia Pogson-Nesbitt.
The performance was their offering for this year's Bermuda Shakespeare Schools Festival [BSSF], and incorporated reggae music; the traditional Rastafari colours of red, gold and green as well as other aspects of the Rastafari culture.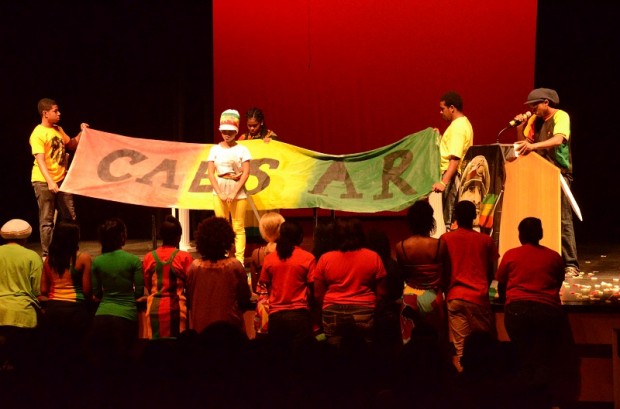 "The play was great," said DeChol'e Daniels, S3 Student. "It was wonderful. The best character was the girl who played the crazy lady. She was extremely funny. She made the entire production interesting."
This version of Julius Caesar was set in a location in Rome where the people of the dominant culture were Rasta. "The idea of presenting Julius Ceasar as Rastafarian was very creative," said Cody Carlington an S4 student.
"Using this convention, the students played with gestures, language, colors red, gold and green in their costumes, lighting and setting, the reggae music of Bob Marley and Barrington Levy, and they utilized artifacts that are predominant in a Rasta community, such as the red, gold and green Lion of Judah Flags, and a picture of Haile Selassie," explained Mrs. Pogson-Nesbitt.
" The performance was made complete with Nyabinghi ritual meditative drumming in one scene that takes place in Antony's yard as he eats a banana, part of a Rasta's ital food."
Mrs. Pogson-Nesbitt always encourages her students to tell the story, and make sure that the audience understands it. Except for the calling of cues, the entire performance was run by the students,.
"The most interesting part was the dancing in the end. When Rasta Julius played his magnificent role, as the spirit while the men warred, in dance," said Cody Carlington, S4 Student.
"This year, I had several students who wanted to perform," said Mrs. Pogson-Nesbitt. "We were only able to enter 25 students in the Shakespeare festival, but I had almost 35 students who wanted to be a part of it.
"It was difficult telling students they could not be in the play, so I did a version for the Festival which only had 25 students and an extended version for the school, which included all the other students."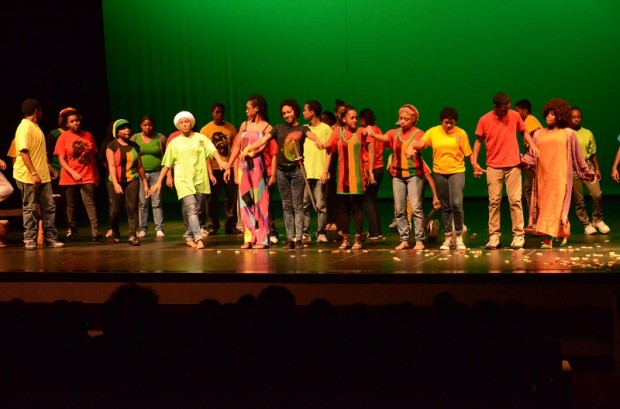 "I thought it was extremely creative, but my one complaint as a drama teacher, is the diction. In spite of the modern approach, the story was still told. The students enjoyed their participation. Outstanding were Brutus and Caesar," said Sheryll Ricardo, teacher at CedarBridge Academy.
Julius Caesar was played by Tasfaye Giraud, who dons a full head of golden locks, brought a full sense of believability to the setting. Brutus was played by Lishon Martin and Mark Antony was played by Rakaya Simmons.
The CedarBridge Academy Orchestra, directed by Music Teacher, Tiffany Fox, opened the play with a Bob Marley reggae tune.
Read More About
Category: All, Entertainment, News