Reggae artists Courtney Melody, Admiral Tibet and Half Pint arrived in Bermuda this evening [Nov 7], with all three set to hit the stage at the "Veterans In Action" concert this Sunday evening [Nov 10].
Their arrival was later than expected as the flight out of Miami was delayed, however they arrived in good spirits and were greeted at the airport by the concert promoters Declan Harris and Rowan Ramotar.
The artists said they will bring a "good amount of niceness" on Sunday evening, and are "anxious to deliver". Half Pint said they are old school artists from when music was more uplifting, and they will be "coming live and direct with 110%."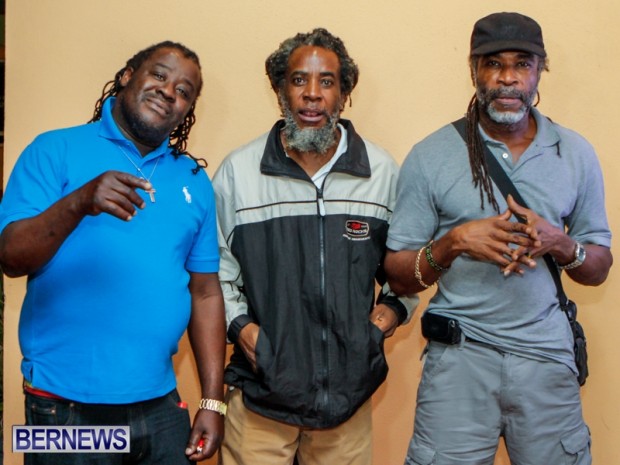 The concert will takes place at CedarBridge Academy's Courtyard under a mega tent, with gates opening at 8pm and tickets priced at $50 in advance.
The three reggae artists will be backed by the Kush Band during Sunday's concert, which will be hosted by Ninja Cutty with music will be provided by Magnum Force, Blackstar and Lenky Global Movements.
This will be Courtney Melody's — the voice behind the reggae classic "Modern Girl" — first ever appearance in Bermuda. It will also be Half Pint's first time, while Admiral Tibet last appeared at the inaugural Veterans In Action in 2005.
"Veterans In Action's November show coincides with the Remembrance Day Holiday every year. As we pay homage to those that made sacrifices for our freedom, Veterans In Action celebrates reggae greats whose songs have lasted the test of time and are reggae classics," the organisers said.
The concert will takes place at CedarBridge Academy's North Courtyard under a mega tent. Gates open at 8pm and tickets are $50 in advance from Kit N Caboodle, Fish N Tings, People's Pharmacy, Belvin's Variety, Somers Supermart and BDATix.bm. For more information see the event's Facebook page.
The three legendary Jamaican singers have decades of hits under their belts, including "Modern Girl", "Serious Time," "Substitute Lover", "Mr Landlord", "Leave People's Business Alone", "Bad Boy" and many more.
A small selection of songs from the three artists. Click video to enlarge/play:
YouTube responded with an error: The playlist identified with the request's <code>playlistId</code> parameter cannot be found.
Read More About
Category: All, Entertainment, Music, News, Videos