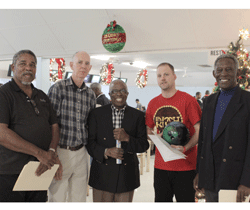 Bowler David Maycock was presented a $1,500.00 cheque by Clevelyn Crichlow the sponsor of the TBI Men's Classic Bowling League and the owner of Jamita House.
Maycock of Team Metro, on Lanes 17 & 18 on Thursday December 12th, bowled a blistering 783 three game series with games of 259, 245 and 279.
This was the first series of 750 or more bowled in the Thursday night Bowling League since 2001 when Jackie Miller and LeVinc Samuels rolled a three game series of 751 and 757 respectively.
Read More About