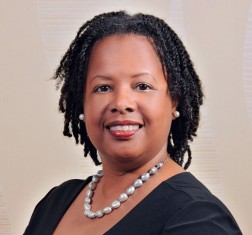 [Opinion column written by OBA Senator Lynne Woolridge]
'Twas the week before Christmas, and in the upper House, Senators debated and had a little grouse!
Last Wednesday's was the final session of the Senate for the year, a full day of dealing with legislation, together with a three-and-a-half hour discussion of the SAGE report – a constructive and honest exchange of views on a document that has great importance for Bermuda's future.
The Government is now reviewing the many recommendations to determine which can be implemented andin what time frame, and they're looking at the likely financial impact of implementation in time for presentation of the budget in the New Year. The recommendations for cost savings span a four-year period, so time is of the essence.Doing nothing is not an option.
The themes of performance accountability, sustainability and work efficiency were common throughout the discussions. The younger generation and future generations featured prominently as we addressed the issue of pension plan challenges.
Both Senator Jeff Baron and Senate President Carolanne Bassett reminded us that if we as a Government wanted our young people to return home to Bermuda once they had completed their studies, or gained overseas experience, then we needed to ensure that there was a culture of excellence throughout the civil and public service to entice them to work for the largest employer in Bermuda.
As the session drew to a close, Senators were trying to end the session in the spirit of the Season, until Opposition Senate Leader Diallo Rabain chose to go down the path of accusing the OBA of being untrustworthy and focused only on providing opportunities to our "wealthy friends".
I can fully appreciate that the One Bermuda Alliance and the Progressive Labour Party would have differing ideologies regarding the best way to restore Bermuda's financial and social situation to one that benefits all Bermudians and residents, but I have to wonder what makes the PLP frame the Government's efforts in quite so negative a way. Is there a fear that if the OBA is able to bring about positive change, this will mean a further downfall of the PLP?
To be clear, and for the avoidance of any doubt, the only way to correct both our economic and our social challenges is to attract money to this island.
People loosely refer to "International business" as though it's only the insurance and reinsurance industries, but frankly, "international" means anyone outside this island who can bring funds into the island – whether that's insurers, reinsurers, banks, trust companies, mutual fund companies, hoteliers and the like. We need to attract that money here rather than allowing (or worse, encouraging) it to go elsewhere to jurisdictions deemed to be our competitors.
In order to attract that money, and the people who hold or control it, we have to show them that we want them to work with us. Knowing that we are being closely watched and listened to by people and investors both inside and outside of Bermuda, why is it necessary for the PLP to continue to denigrate the actions of the government in such an exaggerated way?
In my commentary on the SAGE commission's report, I observed that there had been nine straight years during which government's actual spending exceeded budgeted spending (2003 – 2012).
That spending pattern began well before the documented "global meltdown" in 2008. Was anyone paying attention? Could anyone of us do that with our personal finances?
Can you imagine approaching your employer to ask for an increase in pay, just so that you could continue your wild spending habits? You wouldn't do that, partly because you know perfectly well what kind of response you'd get.
Some have claimed that the spending benefited Mr. & Mrs. Bermuda, providing social programmes and increased opportunities to those who hadn't benefited under the United Bermuda Party administration.
We're also reminded that a government can't be expected to operate like the private sector because the private sector is focused on making a profit, not caring for the welfare of citizens. But with government comes responsibility. I daresay that charities are focused on caring for members of our community as well, but they're equally focused on prudent use of the funds made available to them because they are accountable to those who provide them with financial support.
I make no apology for my contribution to ensuring that this government does its utmost to attract business to this island, so that money flows into and throughout our local economy.
The OBA government is made up of Bermudians who care about all our fellow Bermudians, regardless of their level of wealth, and we want everyone to be able to benefit from an improved economy, through the provision of jobs, provision of affordable and appropriate healthcare and opportunities for future generations. We don't want to go back to the bad old days, we want to create good new days for everyone.
I wish you and your families a joyous and safe Christmas, and look forward to serving you in the coming year.
Blessings to all.
- Lynne Woolridge
Read More About