[Updated] James Adams' 70.2 lb wahoo has earned him a place in the International Underwater Spearfishing Association's [IUSA] record books, with his catch last last year classified as the world record in the Sling/Polespear wahoo category.
Spearfishing is an ancient method of fishing that has been used for centuries, with early civilizations using sharpened sticks to spearing fish from rivers and seas.
According to the Bermuda Fisheries Regulations [PDF] only a pole spear may be used for spearfishing, with no spearguns or Hawaiian slings permitted.
Spearfishing may not be conducted within 1 nautical mile of the shoreline and breathing apparatus is not permitted, so spear-fishers cannot use scuba equipment at all.
James Adams with his record setting 70.2 lb wahoo, photo by Brian Steinhoff via IUSA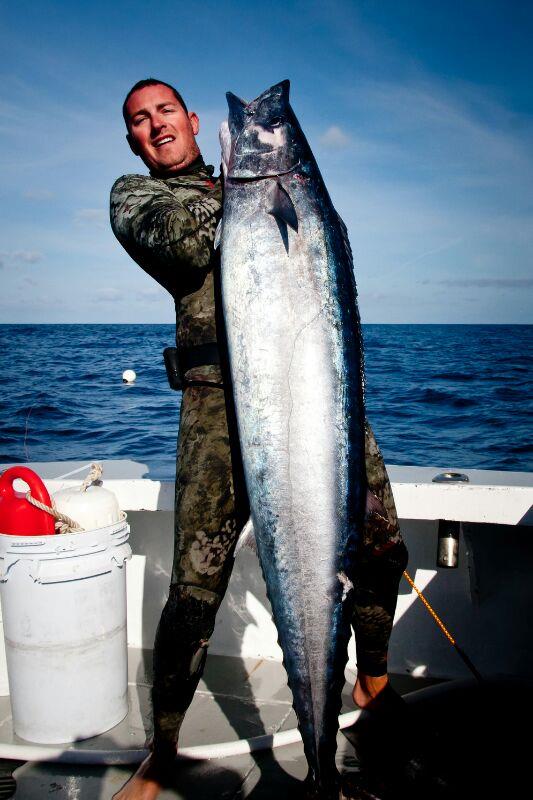 In describing the catch to the IUSA, the 28 year old Bermudian said that on December 7th 2013 he was diving on Argus Tower when he saw four wahoo approaching.
"Luckily the largest one came close in a curious manner and I dove on it very slow. It began to turn away and as it did I shot it," said Mr Adams.
"The slip tip detached and the fish took off. I pressured the float line until I got the fish close enough to place a second shot in its head to kill it. I then swam the fish back to the boat where captain Nick Cabral gaffed it and pulled it into the boat."
Mr Adams actually held the wahoo record before, and broke his own record with this 70lb catch. It makes him a dual record holder as he also holds the spearfishing record for the Horse-Eye Jack.
The International Underwater Spearfishing Association was formed in 1950 to promote spearfishing and to assist in scientific and spearfishing competitive efforts. The IUSA is the certifying body of spearfishing world records.
According to their statistics, 6 of the 25 records in the Sling/Polespear category were caught in Bermuda.
The additional record catches made in Bermuda as listed by the IUSA, are below:
Almaco Jack: 32.8 lbs, Dylan Ward on Oct 6, 2013
Black Grouper: 100 lbs, Craig Copik in Feb 2013
Horse-Eye Jack: 21.1 lbs, James Adams on Oct 19, 2013
White Margate: 20.5 lbs, Bradley Thornbrough on Jul 13, 2010
Grey Snapper, 16.6 lbs, Tyler Princinsky on Jun 12, 2013
-
Read More About