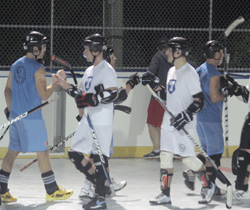 A total of 16 goals were scored in Bermuda Ball Hockey double-header action at the PCC Hockey Rink.
In the opener the second place team Quebec Nordiques defeated the Toronto Arenas who are currently on the bottom of the table 7 – 2.
Peter Miller gave Quebec the lead with the only goal in the first period in the 19th minute. Cam Poland equalized for the Toronto Arenas in the 2nd minute of the 2 period, Scott Shannon put the Quebec Nordiques back in front in the 4th minute of the second Period and then one minute later Miller scored his second goal of the game making the score after two periods Quebec Nordiques 3 Toronto Arenas 1.
The 3rd period produced five goals as the Quebec Nordiques went up 4 – 1 in the 2nd minute when Ian Beaudoin scored, six minutes later Beudoin added his second goal of the game making the score 5 – 1, but Bill McClure pulled a goal back for the Toronto Arenas when he scored in the 8th minute making the score 5 – 2. Beaudoin completed his hat-trick in the 12th minute of the period and then Nathan Kowalski closed out the scoring with a goal in the 16th minute for the Quebec Nordiques to record the big win.
In the nightcap the Colorado Rockies fell 5 – 2 to the Atlanta Flames, Jeff Loper led the Atlanta Flames to victory with 2 goals, while Brian Flynn, Matt Benson and Tom Washington added a goal each, while JF Talbot and Charlie Silva scored a goal each for the Colorado Rockies.
Read More About