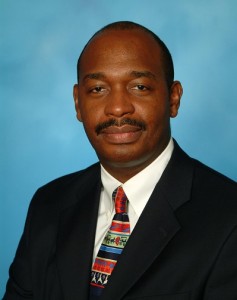 The Bermuda Monetary Authority today [Jan 23] published its 2014 Business Plan [PDF], setting out its regulatory priorities and goals for the year.
Jeremy Cox [pictured], the Authority's Chief Executive Officer, presented the plan to industry stakeholders at the Authority's Annual Meeting held at BMA House this morning.
Mr. Cox said, "A world class financial services industry such as Bermuda's requires the support of a world class financial services regulator capable of assuming a leading role at a global level.
"My goal and the goal of our leadership team is not only to ensure the Authority remains the world class regulator our industry and country demands. We also want to set the standard for quality regulation at home and abroad for the benefit of all stakeholders, including other regulators."
Several key areas of focus in the Business Plan were highlighted at the Annual Meeting, including:
AIFMD opt-in regime considered for Bermuda's fund sector
In 2014, the Authority will continue supporting a jurisdictional effort to facilitate new business for Bermuda. Specifically, the Authority will consider the implications of establishing an opt-in regime for Bermuda's funds sector to comply with Europe's Alternative Investment Funds Managers Directive [AIFMD].
The proposed opt-in regime would enable Bermuda's Alternative Investment Funds Managers [AIFMs] to register with a European Union [EU] member state. Upon registration, AIFMs could market funds throughout the EU by way of a "passporting" option which will be available to non-EU countries by 2015.
This second phase of AIFMD-related initiatives follows Bermuda signing a European Securities and Markets Authority [ESMA] Memorandum of Understanding [MOU] with EU member states in 2013.
Insurance Group Capital Requirements introduced
The Authority has phased implementation of group supervision for Bermuda's largest insurance groups over the last three years.
Having concluded market consultation last year, the Authority will complete the important step of implementing group capital requirements in 2014. This requirement will apply to reporting for the 2013 financial year end and will be phased in over a five-year period.
Bermuda's participation in NAIC Qualified Jurisdiction process continues
The Authority looks forward to participating in the full National Association of Insurance Commissioners [NAIC] Qualified Jurisdiction assessment in 2014.
In 2013, the Authority was invited to participate in an expedited assessment for the NAIC Qualified Jurisdiction process. This process, developed to evaluate the reinsurance supervisory systems of non-US jurisdictions for reinsurance collateral reduction purposes, resulted in Bermuda being one of four jurisdictions to be granted Qualified Jurisdiction status in December 2013.
Approval under the NAIC process means that reinsurers licensed and domiciled in Bermuda will be eligible to be certified for reduced reinsurance collateral requirements under the NAIC Credit for Reinsurance Model Law.
Electronic reporting to be rolled out to Bermuda's captive insurers
The Authority will amend Bermuda's insurance legislation in Q2 2014 to refine the content and process of filing requirements for Bermuda's captive insurers.
In particular, an enhanced Statutory Financial Return [SFR], which consolidates previous filing requirements with a new risk self-assessment, will become an annual statutory requirement for Bermuda's captive insurers. The enhanced SFR will be submitted to the Authority electronically.
These proposed changes will create greater efficiencies in the filing process and the collection of enhanced data will assist the Authority in its continued analysis of Bermuda's captive market.
In conclusion, Mr. Cox remarked, "In 2014, the Authority will continue to build upon our highly-regarded regime and further entrench key framework enhancements across all of the financial service sectors we regulate.
"We will also continue to facilitate business development for the jurisdiction while maintaining an effective, risk-based and appropriate regulatory environment that is workable for the quality firms which operate here.
A copy of the 2014 Business Plan is available here on the BMA's website [PDF].
Read More About