[Updating: Championship side Huddersfield Town F.C confirmed they signed Nahki Wells "for an undisclosed Club record fee" on a four and a half year deal. 
While the transfer fee was not officially released, they did say it broke the old Club record…which stood at £1.2 million [$2 million]. This transfer fee is also believed to be the highest amount paid for a Bermudian footballer]
While Bermudian football phenom Nahki Wells is currently nursing a hamstring injury, his Bradford City FC coach has said publicly that the constant trade speculation surrounding the young superstar is also to blame for his less than stellar efforts in recent days.
According to a report in the Telegraph & Argus, Bradford City coach Phil Parkinson believes that Wells will be traded soon
Where he will end up remains unknown, but the report says that "Huddersfield became firm favourites to sign him after their odds were slashed last night, but Leeds, Middlesbrough, Burnley, and an unnamed Premier League club are among others keeping tabs on City's leading scorer.
Coach Parkinson said: "Generally everybody is expecting Nahki to go. If that's going to happen then the sooner it does, the better for us, because we can move forward.
"We're not encouraging it but in Nahki's mind, this is a window when he does want to go and it looks like that will probably happen.
"With the greatest respect, and he'd be the first to admit, his performances of late have been indifferent. He has found it difficult to cope with the speculation.
"Prior to that, he was great. But the speculation has been building, agents tell you everything which naturally you want to know, and as a young player I think he's found it difficult."
Update 12.15pm: According to Bradford's hometown sports reporter Simon Parker who cites 'sources' at Bradford, Wells is close to signing a deal with Championship side Huddersfield Town F.C
Update 12.21pm: Skysports is also reporting this, with a headline saying: "Huddersfield are close to signing Bradford's Nahki Wells."
Update 12.28pm: Bradford's home town press T&A are reporting that Nahki Wells is "poised to leave City for neighbours Huddersfield," with the deal set to break Huddersfield's current record transfer fee which stands at £1.2 million [$1.98 million].
Update 12.32pm: The Huddersfield press is reporting that "Nahki Wells is expected to lead the Huddersfield Town attack against Millwall at the John Smith's Stadium tomorrow as paperwork on his proposed record transfer is expected to reach completion in the next few hours."
Update 1.10pm: The reports keep building up, with numerous UK media outlets reporting Wells move to Huddersfield is imminent.
Update 1.29pm: There is so much talk about this on Twitter that Nahki Wells name is trending in a part of the UK. Huddersfield fans appear to be celebrating, while Bradford fans are reacting in various ways ranging from thanking him to furious tweets calling him a traitor.
Update 2.38pm: Championship side Huddersfield Town F.C has just confirmed that they have completed the signing of Nakhi Wells "for an undisclosed Club record fee on a four and a half year deal."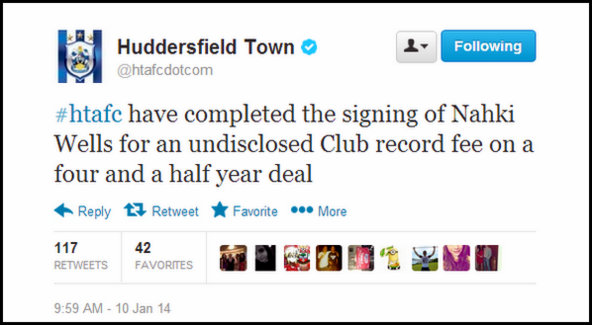 Update 2.50pm: Huddersfield Town's Mark Robins said: "We have tracked the progress of Nahki for some time and we are delighted that we have secured his signature.
"At just 23 he has huge potential, which he has proven at Bradford in the last two seasons. He fits into our ethos of buying young, hungry players who have experience and that we can develop.
"His goal scoring record over the last 18 months is hugely impressive and we believe that he is ready to make the step up to the Championship.
"He will excite our fans and has already shown them what he can do with his goal in the Capital One Cup. I believe he will offer our frontline something different and I can't wait to watch him in action for Huddersfield Town.
"For a young man he has already achieved a lot in his career having reached the Capital One Cup Final and promotion with Bradford.
"His achievements and potential meant that he was coveted by a host of Premier League and Championship clubs and I am delighted that he has chosen to join us."
Update 2.53pm: There appears to be no concrete information on the fee paid yet, other than it was a record amount for the Club….but media reports from the UK suggest it was around £1.5 million [$2.47 million].
Update 6.47pm: Bermudians are not wasting any time getting familiar with Wells' new team. Four hours after the signing was announced, Huddersfield tweeted they had a lot of Bermudians following the Club's twitter account since the announcement, and also noted that they already had orders from the island for shirts.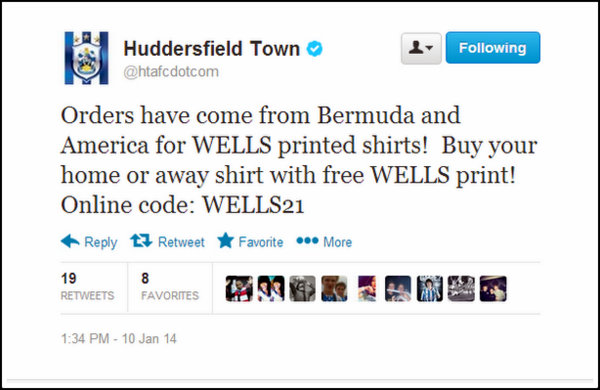 Update Jan 11, 9.28am: Huddersfield posted the video below on Instagram showing Wells — smartly attired in suit — arriving for today's game with Millwall in what the team said "could be his first appearance for the Club."
Read More About