Sunday's rugby action at the National Sports Stadium saw a hard fought first half between the Renegades and Teachers, with an intense battle of attrition between the forwards, with the Police also running rampant over a weakened Mariners team to extend their lead at the top of the table with a bonus point victory.
Teachers vs Renegades – 1 XV Mens
Both sides of this match played to a half time 0-0 stalemate. The second half commenced with a rare kickable penalty by Tom Gregory to give the Reds a tenuous 3-0 early in the second half. However, the Teachers began spinning the ball wide and found chinks in the Renegades defense and tries by Corey Boyce and Andre Landy saw them exploit the space.
Tom Gregory converted one try to give Teachers a commanding 15-0 lead. The Renegades "never say die" attitude saw their burly pack drive deep into Teachers' half for Paul Dobinson to finally breach a resolute Reds defense to make things interesting for the last stanza. However, the Teacher's held on and earned a valuable 15-5 victory which kept them in touch with the league leading Police.
Minute of silence before game by Mariners and Police RFCs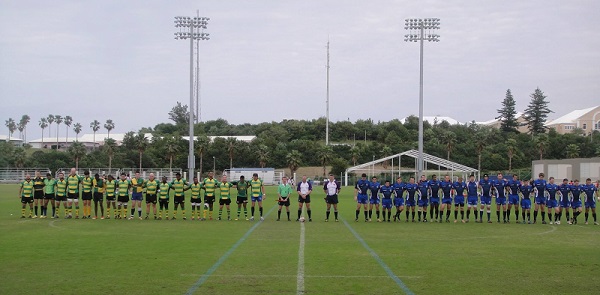 Police vs Mariners – 1 XV Mens' Paul Marsden Memorial Trophy
In a very competitive fight up front, the Mariners held their own, however their lack of experience in their makeshift back line saw the vaunted Police score early and often. The Police scored a total of eight tries, with Police winger Cobus Vermaak crossing for three, with standoff Tommy Edwards and center Paul Davis scoring a brace each, and Darren Richardson finishing off the landslide with a solo effort.
Tommy Edwards kicked three conversions to take the score to 46 points for the Police. The Mariners struggled to field a side and were bolstered with no less than seven U-19 National team players. They fought to the end and were rewarded with tries from Kamel Easten and Neville Zuill. The final score line of 46-10 flattered the Police, as the Mariners were competitive to the end.
The Paul Marsden Trophy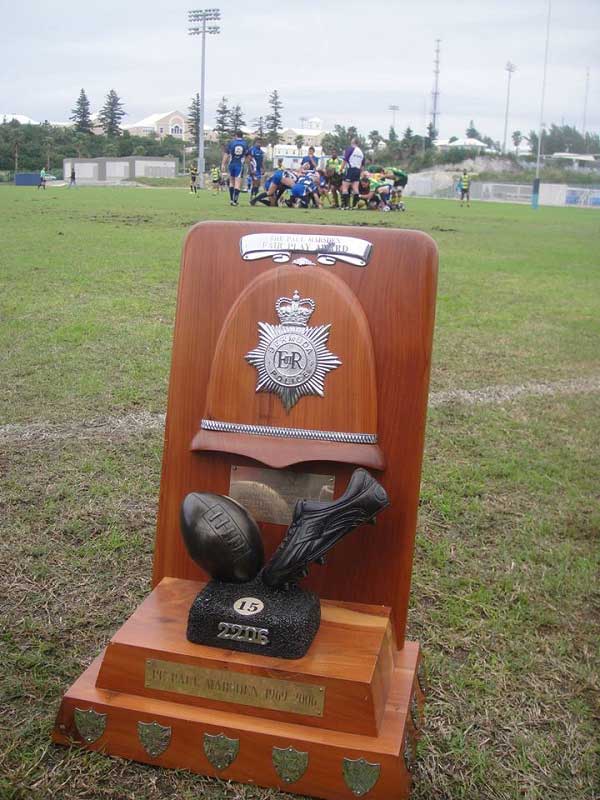 Women's Round-up
The Police bounced back from an early 2-0 deficit to run out a 5-2 victory over a spirited Mariners side. National team player Mika Tomita scored one for the Blues and the silky efforts of Jo Hickley saw her bag a hat trick.
The win gave the Blues a commanding 11 point lead in the league.
In the other match, the Teachers overcame a valiant Renegades side 3-0 with speedster Kathie Wright scoring three tries for the Reds.
Police captain Adam Richards accepting the Paul Marsden Memorial Trophy from Acting Assistant Commissioner Martin Weekes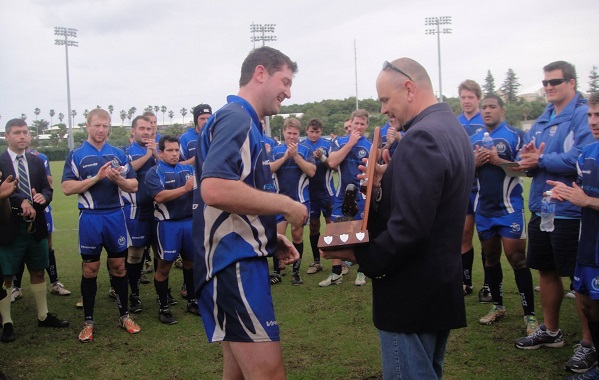 Tables
Men's League
Rank – Team – Total Points – Points – Bonus Points – Points Difference – Tries
1 – Police – 18 – 16 – 2 – 71 – 16
2 – Teachers – 14 – 12 – 2 – 54 – 13
3 – Renegades – 5 – 4 – 1 – [-18] – 7
4 – Mariners – 1 – 0 – 1 – [-107] – 3
Women's League
Rank – Team – Total Points – Points – Bonus Points – Points Difference – Tries
1 – Police – 6 – 14 – 24
2 – Mariners – 14 – 1 – 13
3 – Teachers – 14 – [-2] – 13
4 – Renegades – 2 – [-13] – 5
Read More About