Cheryl Tiegs hasn't forgotten her time basking in the Bermuda sun, tweeting a 1995 photograph featuring herself in Bermuda, serving to remind her followers of the Sports Illustrated photo shoot that she took part in nearly 20 years ago.
The photo originates from a photo shoot that featured not only Ms. Tiegs, but also supermodels Ashley Richardson and Rebecca Romijin, as they combined to fill the pages of the 1995 Sports Illustrated swimsuit issue, which was dubbed "Basking in Bermuda."
Cheryl Tiegs first appeared on the Sports Illustrated in 1970, and was 47-years-old at the time of the 1995 shoot in Bermuda. She continued to model well into her later years; also being featured in a 2006 edition of Playboy when she was 60-years-old.
A tweet sent by Ms. Tiegs showing her during the 1995 photo shoot in Bermuda: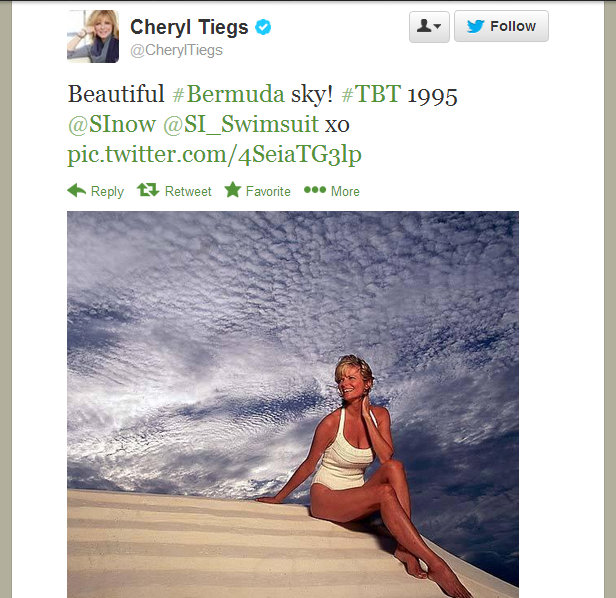 Shot by Ron Labbe, the multi-page swimsuit spread showcased the models – and the pastel Bermuda backgrounds they were photographed against — to tremendous advantage.
"Fourteen of the world's most captivating supermodels will guide an estimated 50 million readers through the beaches of Bermuda and the rain forest of Costa Rica," said Sports Illustrated when it announced the two scenic locations of the 1995 swimsuit issue.
Besides playing a major role in the 1995 issue, Ms. Tiegs was also featured on the cover of the Sports Illustrated swimsuit issue in 1970, 1975, and 1983.
Footage of Cheryl Tiegs in Bermuda is shown in the video below:
Read More About
Category: All, Entertainment