After chasing a suspect vessel in Caribbean waters, the British Royal Naval support ship RFA Wave Knight seized marijuana which they said had a street value of about £1 million [$1.64 million].
The Wave Knight visited Bermuda last year for a 5 day visit, with the island her first port of call after leaving the UK to start patrolling the Caribbean area.
The ship, which had a US Coastguard Law Enforcement and Royal Navy personnel on board, began chasing the suspect vessel – called Miss Kameney – on December 25th before catching up and boarding her the following day.
Photo, courtesy of the Royal Navy, showing the marijuana seized: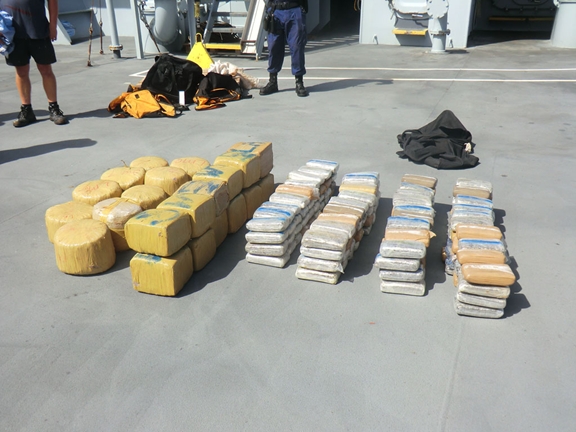 Defence Secretary Philip Hammond said: "The operation, successfully conducted when most of us were enjoying a Christmas break, is testament to the hard work of our service personnel and of the demanding tasks we ask them carry out.
"I am proud of the work of RFA Wave Knight and the role her crew has played in stopping these drugs reaching the streets."
This is the second large scale drugs bust for RFA Wave Knight during her year deployed in the region where she was working alongside Royal Navy frigate HMS Lancaster and the international authorities to disrupt illegal activities in the Caribbean seas.
Read More About