Bermuda's Emerging Professionals [BEPRO] will be holding its first Lunch N' Learn of the year on Thursday, February 27, 2014 at the O'Hara House [XL Limited] from 12.00pm until 1.00pm.
The event, titled "Honouring the Past; Inspiring the Future," is being held in recognition of Black History Month and will feature guest speakers Cathy Duffy, SVP and Underwriting Manager at XL, Kumi Bradshaw, Co-Founder of Firm Advisory Ltd, and Dame Jennifer Smith.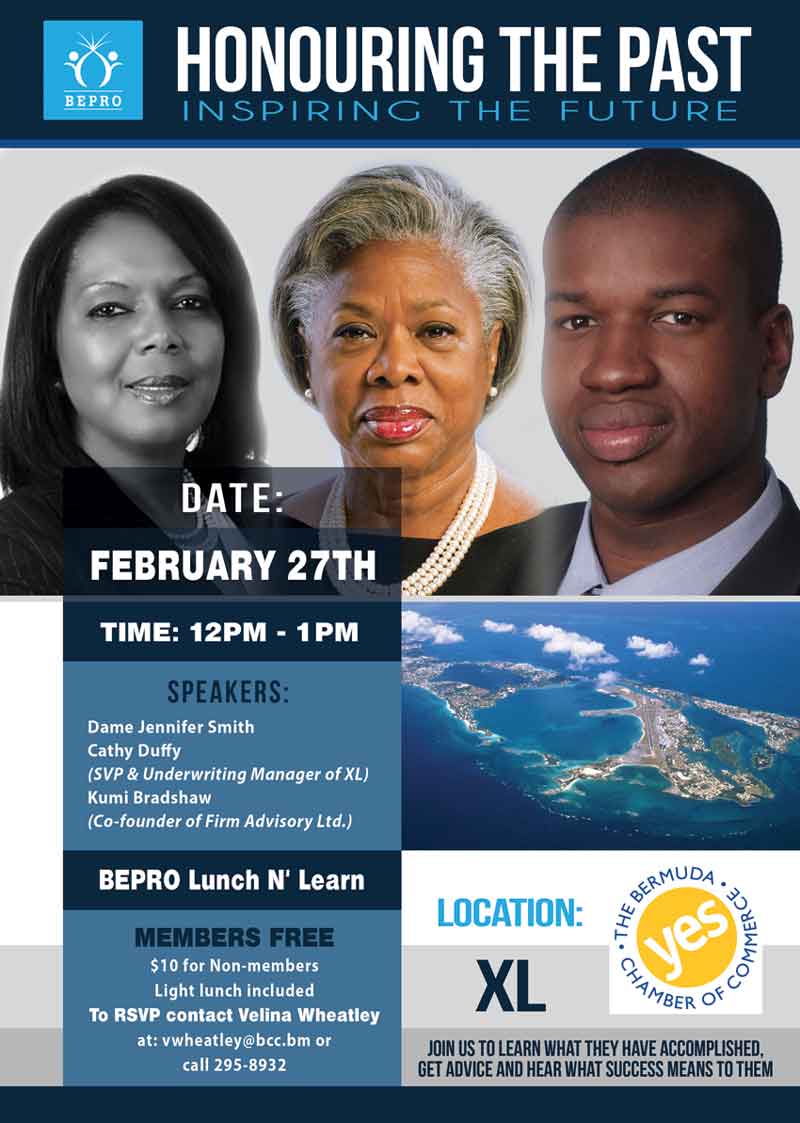 "BEPRO encourages individuals to come out and learn more about the history of these key individuals who have left their mark on Bermuda, gain insight on what success looks like to them, and obtain valuable advice on how we as a modern society can also make a worthy contribution to our community," a spokesperson said.
"Attendees can expect to leave motivated by the hard work accomplished that has opened doors for us all.
"It can be hard motivating yourself to choose a path less traveled. There is a constant tug of war between your desire to achieve greatness and your desire to remain comfortable. BEPRO has put together this event to acknowledge individuals who went against the grain and to help others see the achievability of accomplishing their most desired path and aspirations."
"BEPRO is proud to invite emerging professionals from all industries to this event."
A light lunch will be provided and the event is free for BEPRO members; the entry fee is $10 for non-members.
To reserve your seat at the event, please contact Velina Wheatley via email at vwheatley@bcc.bm or via telephone at 295-8932.
Read More About