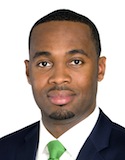 Opposition MP David Burt — who made certain allegations in the House of Assembly on Friday and subsequently repeated them on a radio talk show — said he received a letter this morning [Feb 18] with a "threat of legal action."
MPs all have Parliamentary Privilege, meaning they cannot be sued for anything they say in the House of Assembly, however they do not enjoy the same protection outside the House.
In a post on social media, Mr. Burt said, "I will go to my grave and/or the poorhouse to defend my right to speak truth to the country of my birth and to the constituents I represent.
"I do not fear a lawsuit, I welcome it – as I'm happy to speak under oath….
"I am Bermudian – and this is our future that you are messing with – come clean and stop trying to silence me with your legal team. Come clean with the people of this country or resign!"
When asked for clarification about those comments, Mr Burt said, "I received a letter this morning of a threat of legal action.
"I have sought legal counsel, but suffice it to say I stand by what I said and welcome the opportunity to say the same under oath in a courtroom."
Mr Burt added, "The Premier of the country will not silence me with his threats, I am doing my job. He needs to answer the questions put to him as to the nature of his and his private business partner's relationship with Mr. Nathan Landow."
"If there is nothing to hide, then why does the Premier continue to refuse to answer these legitimate questions. Why does he refuse to say why his private business partner accompanied him on a 'Government Fact Finding' mission last year with a casino developer who was looking to do business in Bermuda.
Mr. Burt continued, "I would say that the better use of the Premier's time would be to come clean with the people of this country. The longer he deflects without answering the questions and tries to silence me with legal threats the more all Bermudians should begin to ask – why won't the Premier just answer the simple question."
The Premier has previously denied all the allegations made, saying "the PLP leadership's Number One priority is to take down the OBA Government," and "Friday's circus in the House of Assembly was the latest chapter in their party-before-country strategy."
We have asked the Premier's office for a response, and will update as able.
Read More About