The Cannabis Awareness Network [CAN] will be hosting an event at the Bailey's Bay Cricket Club later this month titled "Cannabis vs Cancer," with a presentation that aims to outline the "33 carcinogens" found in cannabis smoke, as well as current evidence supporting cannabinoids as effective, non-toxic anti-cancer treatments.
The presentation will include a video link with Dr. Lester Grinspoon, a researcher and associate professor at Harvard Medical School, as well as with Dr. Janet Sweeny, a Colorado doctor who has treated several stage four cancer patients using "Rick Simpson Oil," or concentrated cannabis resin from Cannabis Indica flowers.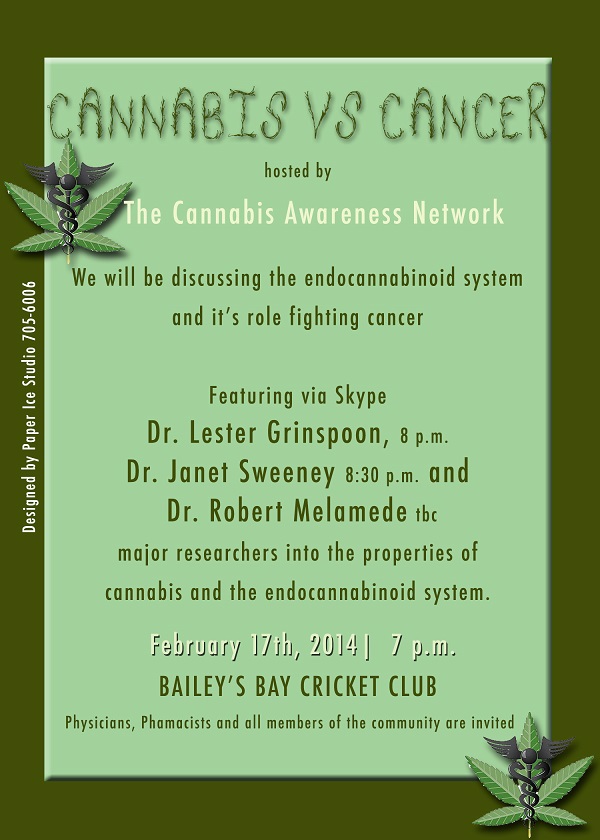 The "Cannabis vs Cancer" event will be held on Monday, February 17, beginning at 7.00pm. The video call with Dr. Grinspoon will take place at 8.00pm, with the video call with Dr. Sweeny following at 8.30pm. A call with Dr. Robert Melamede may also take place if time allows.
With all calls, participants in the event will be invited to ask questions of the guests in reference to their research and discoveries.
The event is free to attend.
Read More About
Category: All