Thanks to a corporate grant awarded by Fairmont Hotels & Resorts, The Fairmont Hamilton Princess today announced a $10,000 donation to Victor Scott Primary School to spruce up the library and provide technological upgrades for the students.
Donated equipment includes six e-readers, two touch screen laptops and a wireless all-in-one colour printer. The hotel also opened a $5,000 Amazon account for the school to purchase new books and other supplies. Public donations can be deposited into the account to sustain it.
The official opening of the newly renovated library is just in time for International Book Giving Day on February 14, which is a day dedicated to getting new, used and borrowed books in the hands of as many children as possible.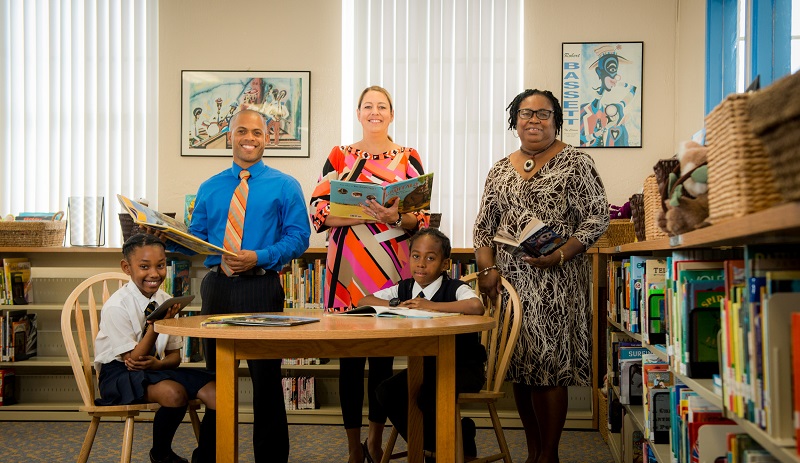 The project was led by The Fairmont Hamilton Princess Sustainability Team who repainted and re-carpeted the library. In the spirit of sustainability, the team repurposed paint and carpet that were left over from a hotel renovation.
In addition, due to the fact that Arch Reinsurance Ltd. was moving offices and no longer needed their bookshelves or a 40 inch flat screen television, Victor Scott Primary School was contacted and arrangements were made by The Fairmont Hamilton Princess to collect the items for use in the library.
"Our main goal with this project is to give the Victor Scott Primary School library a step into the future because the students at the school represent the future of Bermuda and should have access to the latest technology," said John Richardson, assistant director of housekeeping and chairman of The Fairmont Hamilton Princess Sustainability Committee. "
We also have a strong relationship with the school through the special learning sessions our executives lead to teach the students about hospitality and inspire them to pursue a career in the industry."
The donation was made possible through Fairmont Community Assistance and Responsibility to the Environment [CAREs], a corporate grant programme that focuses on the environmental, social and community well-being of the communities in which Fairmont lives and works.
"We are pleased that Fairmont Corporate recognised the value in our grant proposal to assist Victor Scott Primary School and awarded The Fairmont Hamilton Princess with $10,000 for this very special project," said Jeanette Matthew, director of human resources at The Fairmont Hamilton Princess.
"We are so grateful to The Fairmont Hamilton Princess for the Sustainability Team's hard work and generosity to make these wonderful improvements to our library," said Valerie Williams, principal of Victor Scott Primary School. "Education is crucial to the overall development of an individual and society at large, and having a first-rate library is a major part of that. We believe that 'Readers are Leaders.'"
To donate to the Victor Scott Primary School or the organisation's new library Amazon account, please call the school at 292-1787.
Read More About