Yesterday [Feb 6] Governor George Fergusson and the Minister of National Security Michael Dunkley, welcomed receipt of the report of the Security and Defence Review Committee.
Mr. Fergusson said, "I am very grateful to Mr. Leo Mills and all the members of the Committee for their hard work on this. I am aware that the Committee members have undertaken this work alongside many other commitments.
"I would also like to pay tribute to the work of Mrs. Louise Jackson and her contribution to this report. I look forward to reading it and will respond to it, jointly with the Government, in due course."
Governor, Minister Dunkley and Security & Defence Review Committee Chair Leopold Mills.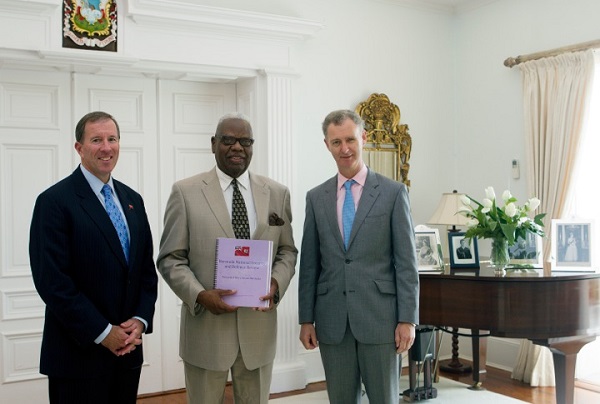 Minister Dunkley added his thanks to the Committee saying, "The report will be tabled when the House of Assembly resumes, and will be made public at that point. Meanwhile it will be considered by Cabinet and a response to it will be made after that. I thank the Committee for its hard work and look forward to reading its recommendations."
Governor, Minister Dunkley, Mr. Mills and Committee members Cheryl Lister and Ralph Richardson.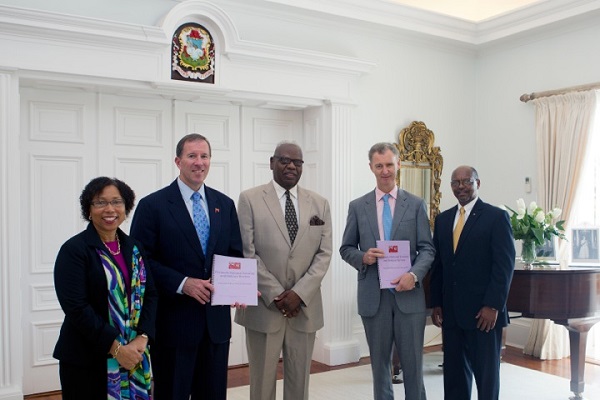 Read More About
Category: All