The Bermuda Underwater Exploration Institute [BUEI] will be hosting a talk by National Geographic photographer David Liittschwager as he takes the time to discuss his new book, A World in One Cubic Foot, as well as other exciting works in progress, including the ongoing CahowCam project in Bermuda.
The talk will get underway on Thursday, March 13 at 7.30pm, with the Harbourfront opening for dinner at 6.00pm and drinks at 6.30pm. The cost the attend is $20 for members and $25 for non-members, with tickets available by calling 294-0204 or by visiting Oceans Gift Shop.
Ticket holders are also entitled to 20 percent off of dinner at the Harbourfront before or after the lecture. Please call 295-4207 for reservations and be sure to mention the lecture in order to obtain the discount; note that the discount cannot be combined with any other special offers.
According to a spokesperson, "David Liittschwager is a contributing photographer to National Geographic and other magazines and is in Bermuda collaborating with the LookBermuda team led by Jean-Pierre Rouja on the LookBermuda Nonsuch Island project.
"Liittschwager is also a successful book author. He has produced the books Skulls and X-Ray Ichthyology: The Structure of Fishes. Liittschwager's books in collaboration with Susan Middleton include Archipelago, Remains of a Rainbow, Witness, and Here Today. His latest book is A World in One Cubic Foot, featuring portraits of biodiversity.
"Recipient of an Endangered Species Coalition Champion Award for Education and Outreach, a Bay & Paul Foundation Biodiversity Leadership Award, and the Thomson Reuters/Zoological Record Award for Communicating Zoology. Liittschwager lectures and shows his work in both fine art and natural history contexts. His photographs have been exhibited at many museums."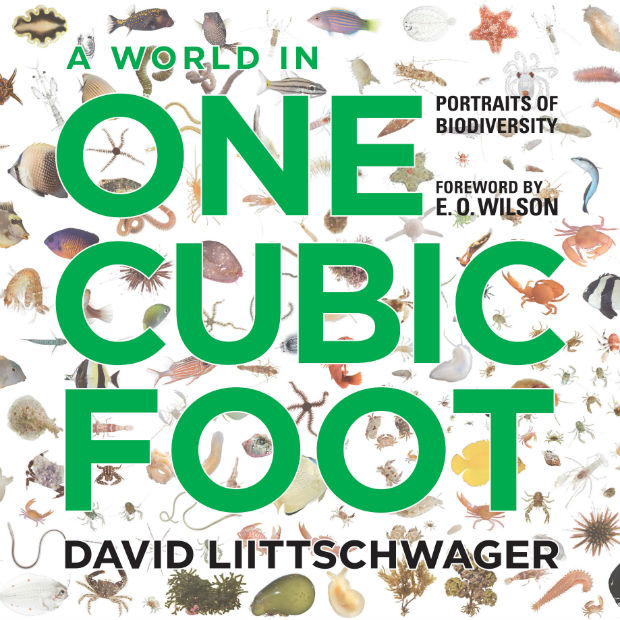 The description of Mr. Liittschwager's latest book, A World in One Cubic Foot, says, "
"Twelve inches by twelve inches by twelve inches, the cubic foot is a relatively tiny unit of measure compared to the whole world. With every step, we disturb and move through cubic foot after cubic foot. But behold the cubic foot in nature—from coral reefs to cloud forests to tidal pools—even in that finite space you can see the multitude of creatures that make up a vibrant ecosystem.
For A World in One Cubic Foot, esteemed nature photographer David Liittschwager took a bright green metal cube—measuring precisely one cubic foot—and set it in various ecosystems around the world, from Costa Rica to Central Park. Working with local scientists, he measured what moved through that small space in a period of twenty-four hours. He then photographed the cube's setting and the plant, animal, and insect life inside it—anything visible to the naked eye.
"The result is a stunning portrait of the amazing diversity that can be found in ecosystems around the globe. Many organisms captured in Liittschwager's photographs have rarely, if ever, been presented in their full splendor to the general reader, and the singular beauty of these images evocatively conveys the richness of life around us and the essential need for its conservation.
"The breathtaking images are accompanied by equally engaging essays that speak to both the landscapes and the worlds contained within them, from distinguished contributors such as Elizabeth Kolbert and Alan Huffman, in addition to an introduction by E. O. Wilson.
"After encountering this book, you will never look at the tiniest sliver of your own backyard or neighborhood park the same way; instead, you will be stunned by the unexpected variety of species found in an area so small.
"A World in One Cubic Foot puts the world accessibly in our hands and allows us to behold the magic of an ecosystem in miniature. Liittschwager's awe-inspiring photographs take us to places both familiar and exotic and instill new awareness of the life that abounds all around."
Read More About
Category: All, Environment