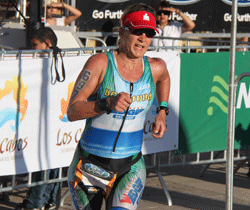 Karen Smith started her 2014 triathlon season with an outstanding performance in the Los Cabos Ironman Triathlon in Mexico, finishing 1st in the Female 45-49 Age Group. Her impressive showing saw her finish as the 18th female, the 5th amateur female and 91st overall in a field of 866 starters.
Smith exited the 2.4 mile swim in a quick 58:25 and then blitzed the 112 mile bike course in 5:36.47 at an average speed of 19.95 miles per hour to move to 15th female overall and 1st in her Age Group.
Smith then posted a time of 3.41.43 for the 26.2 mile Marathon, to take age group honuors in a fast overall time of 10:22.59.
Meanwhile Mark Wilcox put in another strong performance in the very competitive Oceanside, USA 70.3 Half Ironman Triathlon as he finished 14th in the 45-49 Age Group in 4:51.10, good enough for 127th overall out of 2,420 competitors.
Wilcox completed the 1.2 mile Swim in 33:37 and then put together an impressive Bike time of 2:41.49 for the 56 miles) and then he covered the 13.1 miles Run Course in a time of 1:28.50 to move through the field.
Read More About