PinkSand Entertainment will host a Grand Opening Event on Thursday [Mar 20] at 5:30 at Rumbar on Victoria Street.
It will feature a live performance from international recording artist Shelea Frazier from Los Angeles, as well as performances by local musicians Sia Spence, Paul Smith, Toni Bari and more.
Senator Jeff Baron, and Chamber President Ronnie Viera will be on hand to participate in the official ribbon cutting and champagne toast. This event is endorsed by the Bermuda Chamber of Commerce, BEPro, and the Bermuda Economic Development Corporation. Furthermore, Rumbar and Burrows & Lightbourne have collaborated to offer unrivaled drink specials for the attendees.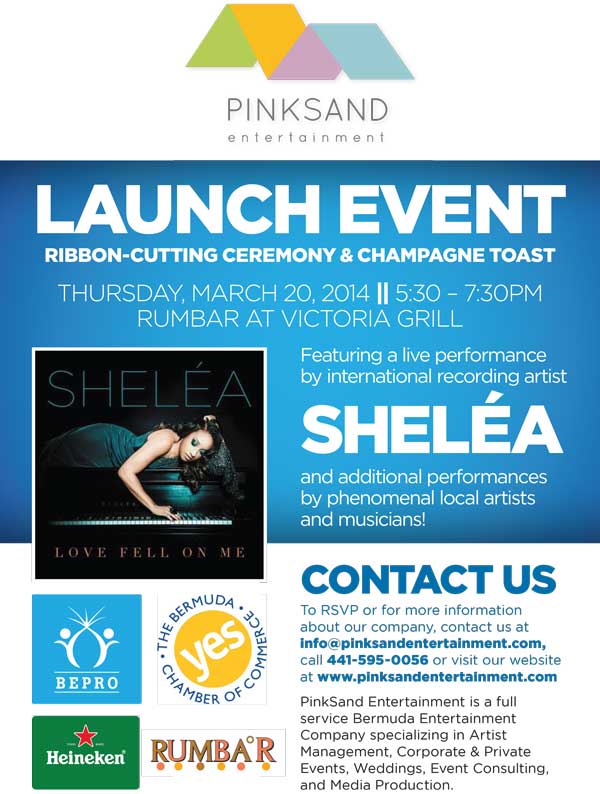 "PinkSand is committed to doing our part in the revitalization of Bermuda's tourism product through the development, production, and marketing of local Bermuda artists," proclaimed PinkSand Founder and CEO Jonathan Tankard. "One of our major goals is to find and/or develop avenues for our artists to successfully share their talents with the right audiences."
Some of PinkSand's recent projects include; the City of Hamilton's Summer Sunday Series, Bermuda Tourism Feel the Love Art Gallery, Worshippers Unite: Tricray Astwood in Concert, and the NYE I.O.P at Coco Reef.
"PinkSand is a first class Bermuda entertainment company that truly has its finger on the pulse in Bermuda's growing entertainment industry," claims Tricray Astwood – Praise & Worship Leader of Faithworld Orlando.
PinkSand said they are excited at the opportunity to have everyone join them at their event as they continue to strive for quality entertainment in Bermuda. For more information about PinkSand Entertainment you can visit their website at pinksandentertainment.com
Read More About
Category: All, Entertainment