Nevaeh Barclay, a primary one student at Northlands Primary is the 2014 winner of the BELCO Bird Kite Safety Poster Competition.
Nevaeh and her class were invited to BELCO Headquarters where BELCO Bird presented her with a $500 grand prize donation to benefit her class. She also received a hand-crafted Bermuda kite made by BELCO Fitter, Corrie Dillas.
2014 Poster Competition Winner, Nevaeh Barclay with BELCO Bird: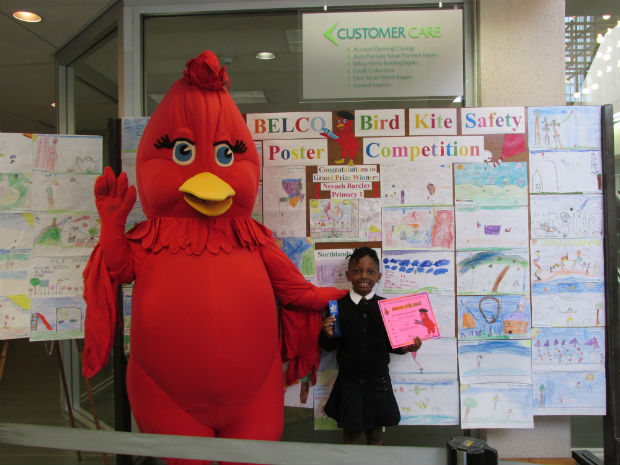 Nevaeh's artwork was chosen as the Best Kite Safety Message Overall of 131 entries sent in by other local primary one and primary two students. Students were judged according to their year level on the following categories: "Best Safety Message" and "Most Beautiful."
The art competition is a part of BELCO's 28-year-old annual Kite Safety Campaign to promote safe kite making and flying. In March, BELCO Kiteman Cornell Dunkley and Deana Bailey of External Relations and Corporate Communications visited more than 1,400 primary one and primary two students to give the BELCO Bird Kite Safety Presentation and Electrical Safety Demonstration.
Northlands Primary students pictured with Nevaeh's Bermuda-made kite along with Principal, Charles Joynes, BELCO Bird and Primary One teacher, Ainslie Steede: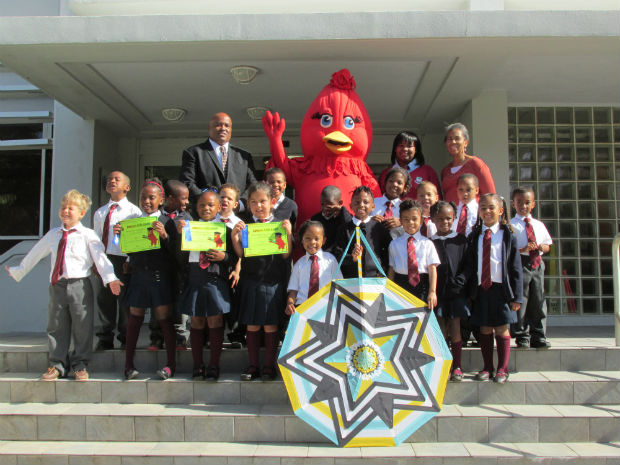 All posters will be displayed in BELCO's lobby through May 5. Entrants are encouraged to stop by and view them anytime from 9am through 5pm.
BELCO's Kite Safety Campaign ends on Good Friday, when BELCO Bird will visit safe kite flying locations around the island. Visit Belco.bm to find out where BELCO Bird will be on Good Friday.
Read More About