While well-known throughout Bermuda, the Bermuda Petrel — more commonly known as the Cahow — managed to find its way to another part of the Atlantic Ocean, with a recent sighting off of the coast of Nova Scotia, Canada giving birdwatchers in that part of the world a relatively rare sight.
The American Birding Association said, "Michael Force, on a research vessel south of Nova Scotia, found an incredible Bermuda Petrel approximately 131 nautical miles south of Cape Sable, Nova Scotia, near Georges Canyon.
"This is not only a first provincial record of this incredibly rare seabird, but a first record for Canada.
"Interesting, the presence of this species in Canadian waters has been known for some time. Bermuda Petrels outfitted with geologgers were documented foraging along the east coast of North America as far north as Newfoundland, though no physical record of the bird's presence has ever been found until now."
A Cahow chick in Bermuda: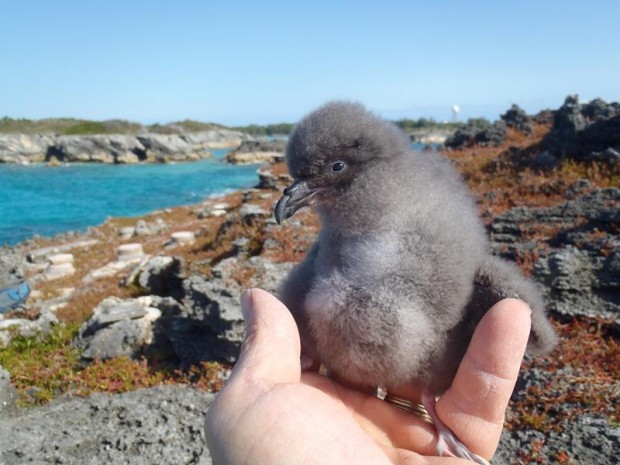 "While birders would have been justified to include the species on any official list, having physical documentation is obviously much nicer."
While thought to have been extinct for hundreds of years, the Cahow was rediscovered on several small rocky islets off of Bermuda in 1951, giving conservationists the opportunity to help the species to rebuild its dwindling population.
As a result, for the last 50 years the Cahow Recovery Programme has been one of Bermuda's priority protected species projects. Now managed by the Terrestrial Conservation Section of the Department of Conservation Services, the team works hard to control predators, build artificial nest burrows, and carry out research to better understand the Cahow and enable it to recover.
Read More About
Category: All, Environment