A new women's rifle drill team set to make its debut at the annual Bermuda Day parade has got a seal of approval from the wives of Governor George Fergusson and Premier Craig Cannonier.
Margaret Fergusson and Antoinette Cannonier joined forces to inspect the 'troops' of the Bermuda Rifle & Drill Team, formed by Regiment Sergeant Debbie Symons and who are being trained by Bermuda Regiment drill instructors.
Ms Fergusson [centre right] and Ms Cannonier [centre left] line up with the new Bermuda Rifle & Drill Team at Warwick Camp.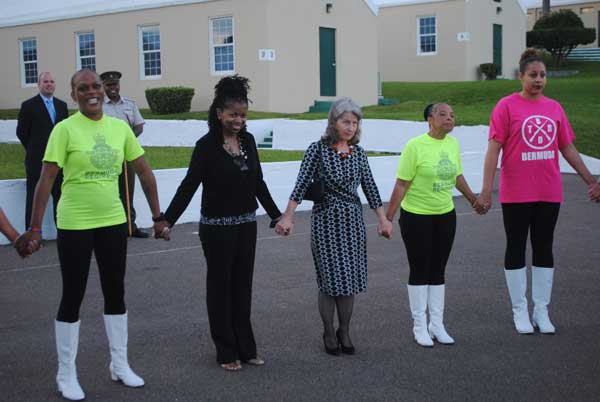 And Ms Fergusson said, "I just commend the initiative – I think it's absolutely fantastic that Sergeant Symons has formed a group of women with a mix of age groups, some with children, families and other interests.
"They are all learning a drill that involves them having to depend on each other."
And Ms Fergusson added, "With any luck, we may get some more recruits into the Regiment as well, but it's definitely giving women the opportunity to learn a new set of skills."
Ms Fergusson was speaking after the drill team, which is mostly civilian, was put through its paces and inspected by the dignitaries last week.
The 25-strong team will perform in public for the first time in the Bermuda Day Parade and plan to fly the flag for the Island at a major parade in Chicago later this year.
Ms Cannonier added, "I'm very impressed and I'd like to congratulate the ladies for making this all come together. It's a great opportunity for teamwork, fitness and to learn something new.
"They all seem to be enjoying it very much."
And she praised the Regiment for backing the team with training in drill and parade ground manoeuvres.
Ms Cannonier and Ms Fergusson inspect the Bermuda Rifle & Drill Team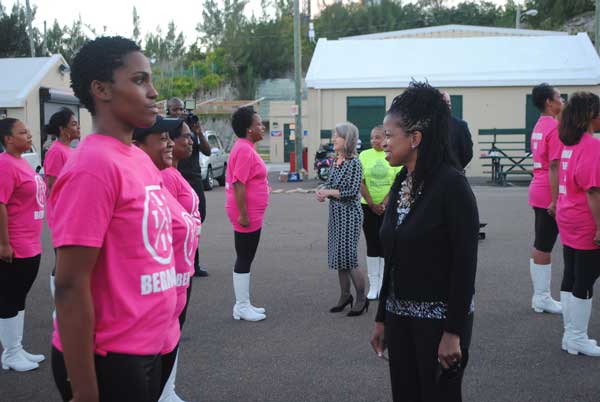 Ms Cannonier said, "We have had Regimental support many times over the years, whether it's hurricanes or whatever and the Regiment has always stepped up to the plate."
Team manager Sgt Symons added that the team had been given the honour of stopping at the Bermuda Day reviewing stand at the Flagpole on Front Street for an official salute.
She said, "Both Ms Fergusson and Ms Cannonier heard about the group and they said they'd like to come up and meet the team.
"It's a big thing for them to come and we're delighted. It's all going very well – the team is switched on and they've got the steps down.
"I'm very proud of them – they're mostly civilians, but they acting like they're soldiers."
And she appealed for sponsors for the team to help them reach their goal of performing in front of thousands in Chicago in August.
Sgt Symons said, "it will be great to represent the Island overseas – but without the funds we're not going to make it."
Regiment Commanding Officer Lt Col Michael Foster-Brown added, "Sgt Symons asked if she could use the camp and borrow some soldiers as instructors and – as we do with many other organisations – if we can help, we do"
And he said helping civilian organisations helped to demystify the Regiment and gave them a better understanding of its training and value.
Lt Col Foster-Brown added, "It overcomes that hurdle of the unfamiliar, which is a good thing and six of the 25 have expressed an interest in joining the Regiment. That's not the object of the exercise, but I am delighted."
Anyone interested in helping sponsor the team should contact bermudarifles@hotmail.com or contact the Regiment on 238 1045.
Read More About
Category: All, Entertainment