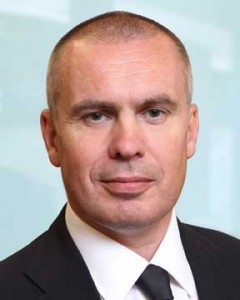 Though many organisations lay claim to being a digital enterprise, only a minority – 20 percent – are truly there, according to the 6th Annual Digital IQ Survey report released by PwC.
In the report, PwC explores organisations' ability to understand, value, and weave technology throughout the enterprise—their Digital IQ.
In this year's study of nearly 1,500 executives—split equally among business and IT executives—PwC has identified the actions and investments that are integral in highperforming digital enterprises today. Companies that demonstrate these five digital behaviours are more than twice as likely to be top-performing companies in revenue growth, profitability, and innovation.
Garth Calow [pictured], Advisory Leader, PwC Bermuda, said: "With digital at the top of the agenda for nearly every company, the question now becomes: 'How do we use digital technology to improve products and services, create new ones, or change our business models to stay ahead in competitive markets?'
"Through all of our research, CEOs have made it clear that they see both the promise and peril of digital technology; and we believe that charting their company's course in the digital age is the number-one challenge business leaders will face in 2014."
Chris Curran, PwC Advisory principal and Chief Technologist, added, "Today, all roads lead to digital. From business strategy to execution, digital technology has become the foundation for everything we do. Simply put, you can't afford to underestimate digital."
Which emerging technologies are in play? When it comes to which technologies they are betting on, all companies in our study agreed that the following were of the most strategic importance in three to five years:
Mobile customer technology
Private cloud
Data mining and analysis
Externally-focused social media
Cybersecurity
"At the other end of the spectrum, these emerging technologies ranked lower in terms of strategic value: gamification, NoSQL databases, and wearable computing.
"Our survey found that if you want to boost your company's performance, raise your Digital IQ by developing these five behaviors:
Behaviour 1: CEO actively champions digital
A digital CEO sets and steers the company's digital vision and tackles the inevitable challenges that come with new ways of doing business. PwC's analysis reveals that 81% of top performers say their CEO is an active champion in the use of IT to achieve business strategy, compared with 68% of other companies. For every strategic question, the CEO must ask: What are the digital opportunities here?
Behaviour 2: Strong CIO-CMO relationship
According to the survey, the relationship between the Chief Information Officer (CIO) and the Chief Marketing Officer (CMO) has become critical: 70% of top-performing companies say they have a strong CIO-CMO relationship, compared with just 45% for non-top performers. The CIO continues to be internally focused and there has been virtually no change in involvement around customer and product innovation during the last six years.
Behaviour 3: Outside-in approach to digital innovation
Top performers in PwC's study are more likely to look to outside sources such as -industry analysts, vendors, universities and labs- to fill their idea pipelines, in addition to internal sources. But all companies tend to rely most heavily on traditional sources like internal planning sessions and workshops.
Behaviour 4: Significant New IT platform investments
While investing in disruptive technology is crucial for innovation, top-performing companies realize they need to think bigger. They are innovating how they think about IT and remaking it to better meet the needs of the business. PwC refers to this model as the New IT Platform — a thorough approach, addressing how IT's mandate, processes, architecture and organisation must change to keep up with the business.
Behaviour 5: View digital as an enterprise capability
PwC suggests organisations should begin broadening how they think about their digitally-savvy resources, realising that it is becoming essential to have an IT capability that is woven throughout the business rather than only centralised in a single function.
"PwC Bermuda's Advisory professionals across our Consulting and Deals practice, including Forensic Services, create value for our clients by helping them address their most complex business issues, from strategy through execution.
"Our firm's global network of assurance, tax and advisory professionals means that we can bring the right skills and capabilities to help our clients achieve success in Bermuda and anywhere around the world."
For more information visit here.
Read More About
Category: All, Business, technology