[Updated with video] Bermuda's CARIFTA medal tally is now up to five, with Kyrah Scraders claiming her second medal and Bermuda's first gold medal of these Games.
Competing in the 800 finals this evening [Apr 21], Scraders outsprinted both the Jamaican competitors on the final stretch to cross the line in 2.10.68 to claim her first gold medal of these Games.
The is the second consecutive 800m win for Scraders, following up on her win at the 2013 CARIFTA Games.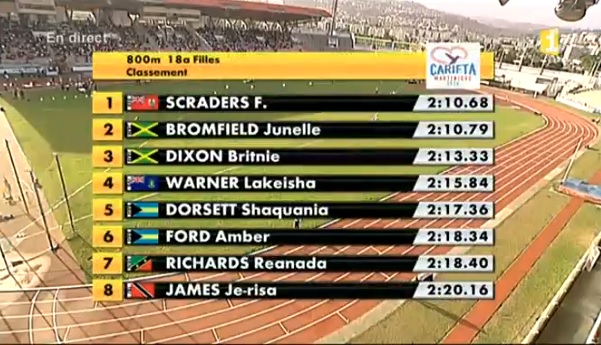 Bermuda already had four medals with Kyrah Scraders previously winning a silver, and Jahnai Perinchief, Sakari Famous and Dage Minors all collecting medals during the first two days of competition.
Bermuda's 13-strong team consists of: Tiara DeRosa [Shot Put & Discus], Kyrah Scraders [800m & 1500m], Sakari Famous [High Jump], Azaire Smith [High Jump], Taahira Butterfield [100m & 200m], Kionje Somner [200m & 400m], Daniel Oatley [3000m], Jahnai Perinchief [High Jump & Triple Jump], David Darrell [800m & 1500m], Michaiah Robinson [400m & 800m], Chas Smith [Triple Jump & Long Jump], Dage Minors [1500m & 5000m] and Justin Donawa [Triple Jump].
Bermuda has more athletes [Dage Minors, Chas Smith & Justin Donawa] competing this evening and we will update as able. You can follow along on the live video stream here.
Update 8.25pm: Kyrah Scraders — with her gold medal — is pictured below with BNAA President Donna Watson, in a photo courtesy of Mia Black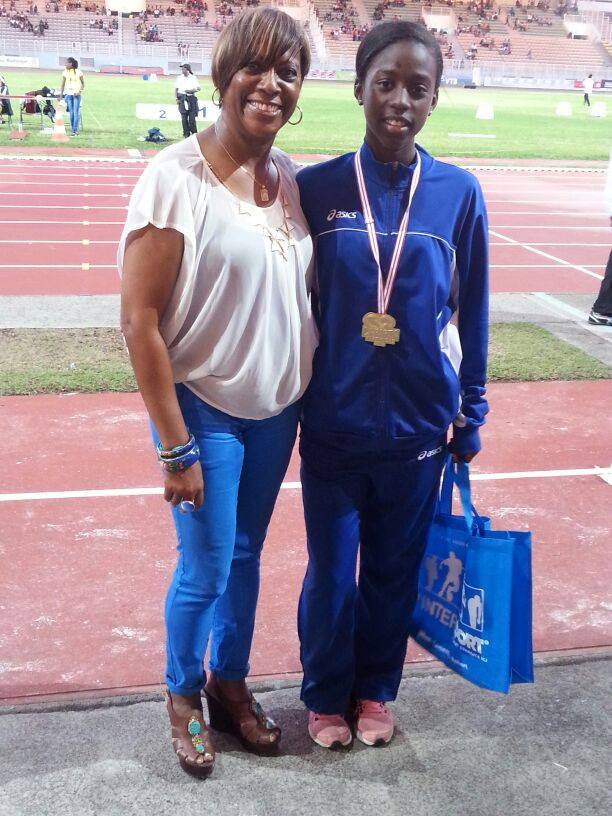 Update 8.47pm: The video of Kyrah Scraders winning the 800m is below
Update Apr 22, 7.17am: Minister of Community, Culture and Sports Wayne Scott extended his congratulations to Kyrah Scraders, saying: "I think I speak for the entire Island when I say that I am extremely proud of young Kyrah's achievement yesterday.
"Her outstanding performance should inspire us all, and we are simply thrilled that she has represented Bermuda in such fine fashion.
"I look forward to welcoming back Ms. Scraders and the entire CARIFTA team – whose members have also achieved medal success this weekend at the Games – and personally congratulating them upon their return."
Read More About