This week, the Minister of Home Affairs, Michael Fahy, recognised a young Bermudian who recently returned from embarking on an ambitious training initiative in India.
Fanaye Broadbelt is currently studying for her Masters of Science [MSc] in Renewable Energy and the Built Environment.
For the past three months, from January through March 2014, Ms. Broadbelt's educational path has had her in India, participating in the International Training Programme on Trends and Developments in Generation and Transmission Systems at the Central Institute for Rural Electrification in Hyberbad.
The training programme is a jointly sponsored initiative between the Department of Workforce Development, within the Ministry of Home Affairs, and India's Ministry for External Affairs.
Ms. Broadbelt said that she was motivated to attend the course because she felt it would be an invaluable opportunity to learn from the "innovative approaches to conquering the energy demand problems being faced by developing countries, like India, in emerging markets."
She says that her aim is to someday apply what she's learned in India to Bermuda's energy industry. Ms. Broadbelt said, "As my interest is in renewable energy, I plan to move my career towards design of renewable energy systems projects, both grid-connected and off-grid.
Minister Fahy and Fanaye Broadbelt: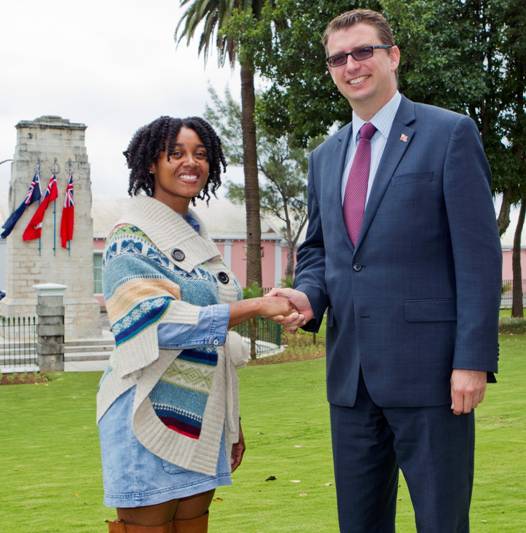 "I am interested in demand-side management, energy markets of small grid systems, green buildings rating systems, and Bermuda's on-shore renewable energy potential. I thought it would be quite useful to visit and learn from players in the Indian energy market as some of the issues they face in terms of providing energy in a populated, warm climate are mirrored in Bermuda.
"So, my main objective for engaging in this programme was to gain more insight into the transmission and distribution aspects of BELCO's operations because I have always worked in generations."
She added, "I would encourage anyone who wants to experience a unique experience of living in another country while enhancing their experience and knowledge in their chosen field to consider attending an Indian Technical & Economic Cooperation [ITEC] programme. While each experience will be different for each participant, there are many benefits to be gained."
Home Affairs Minister Michael Fahy said that he was "very encouraged" by Ms. Broadbelt's participation, and viewed such training initiatives as this as both "pioneering" and "necessary" to help in expanding the educational opportunities for Bermuda's young people.
Minister Fahy said, "This was a very ambitious undertaking for Fanaye, and we are pleased that we could help facilitate this learning experience for her.
"What is becoming increasingly evident is that our world is rapidly changing – socially, economically and environmentally – and Bermuda must stay in step with the evolving trends so that we can remain both relevant and competitive on a global scale.
"What Fanaye acquired in India in terms of the hands on experience, the cultural exchange and the in depth knowledge of India's energy systems will not only be a useful guide for her career in going forward, but we have no doubt that her work will also be beneficial for Bermuda in the years to come."
"This is not the first time that Bermuda has participated in a cultural training exchange with India. Several years ago, India was the location for a training exchange for Bermudian students who wished to gain a unique insight into the film industry."
Read More About
Category: All, Environment, News