A relatively rare sight anywhere outside of Bermuda, the Bermuda Petrel – better known as the Cahow – has been known to occasionally make its way to other parts of the Atlantic Ocean, but a report made yesterday [May 19] by Irish birdwatchers shows that the far-ranging bird will occasionally travel even as far north as Europe.
A report at IrishBirding.com said, "A Bermuda Petrel [also known as the Cahow] was seen from the R.V. Celtic Voyager at 5.56pm GMT today [May 19] approximately 170 nautical miles west-northwest of Slea Head, County Kerry, during a survey for cetaceans and seabirds."
Cahow chick born in 2013 as a result of Bermuda's conservation efforts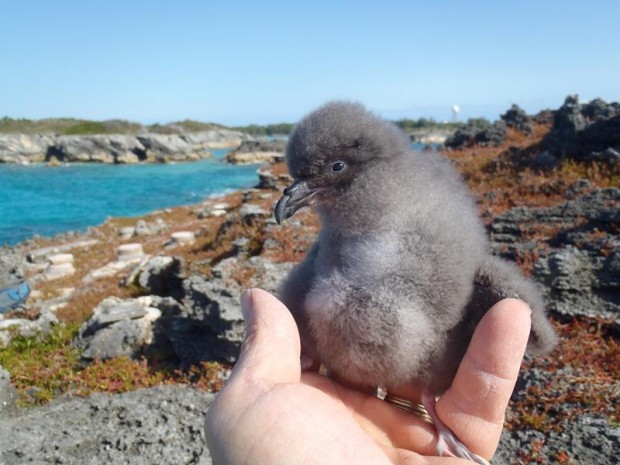 "It was picked up at a range of about 250 metres, over a water depth of 1,030 metres, at the head of a canyon on the western slope/shelf edge of the Porcupine Bank. It was on view for a maximum of one minute before heading off in a southeast direction."
A social media post by the Bermuda Audubon Society confirmed the sighting, adding that proof of the data had been received from geolocaters attached to a number of Cahows. Such geolocaters are put into place in order to help researchers to track the movements of the bird as both a matter of general scientific interest and in order to better promote conservation efforts in Bermuda.
Read More About
Category: All, Environment