The Centipede Art Movement is inviting the public to a special performance art event set to take place on Warwick Long Bay Beach on Saturday, May 17 at 12.00pm through Sunday, May 18 at 12.00pm, providing a full 24 hours of endurance art in a piece dubbed "Working for Nothing."
A spokesperson said, "Working for Nothing is a simple piece that tackles some crucial Bermudian issues. As with all performance art, the activity itself, the experience, is what we are creating and valuing, as opposed to an art object.
"Our piece will have a very low visual impact; the "art" of it is that we will be working for 24 hours straight to produce nothing. We will be valuing the work itself, being fulfilled by the job, instead of the reward."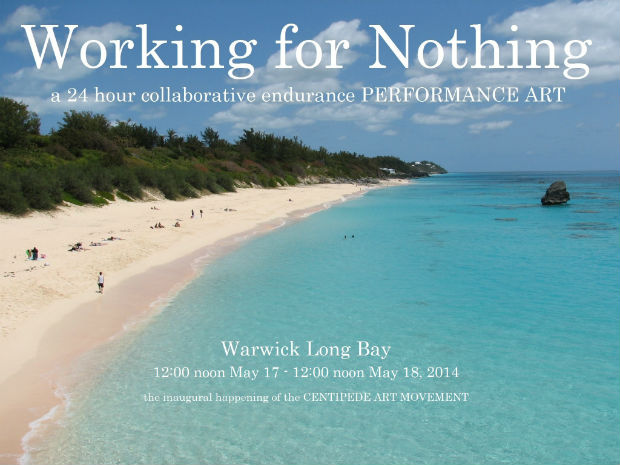 "We are also excited about the collaborative nature of the work, the teamwork and community aspect. We are all in it together, equally; none of us is trying to "get ahead" at the expense of anyone else, as is common in the world today.
"This is a direct challenge to the prevailing capitalist attitude of value being assigned instead of being intrinsic; a bottle of water may cost $2.75, but that value bears no resemblance to the experience of being thirsty.
"Collaboration is the antithesis of alienation. In a world where we are encouraged to achieve for ourselves first, where our success is measured in the failure of others, we are choosing to work together and value what we share."
"Join us in our first attempt to create a collaborative art experience. Bring an open mind and your sense of adventure to experience a type of artwork rarely seen in Bermuda. Bring your sense of community along with your refreshments.
"If nothing else, drop by to see if those crazy artists are really going to work for 24 hours straight."
The Centipede Art Movement is a grassroots coalition dedicated to the cultivation of contemporary art in Bermuda.
Read More About
Category: All, Entertainment