The Wellbottom Industrial Community is turning into an outdoor art gallery, with Island Engineering Limited [IEL] having recently commissioned a graffiti mural, and now joins the movement started by the Scott Tucker Gallery, and the 'Urban Cottage'.
Owner Randy Burrows wanted a mural to depict the relationship between water as a natural resource, and the mechanical infrastructure required to deliver water to the end user. Artist Juan 'Chatoe' Trevino took five days to complete the scenes on the 60ft long wall, using only spray paint.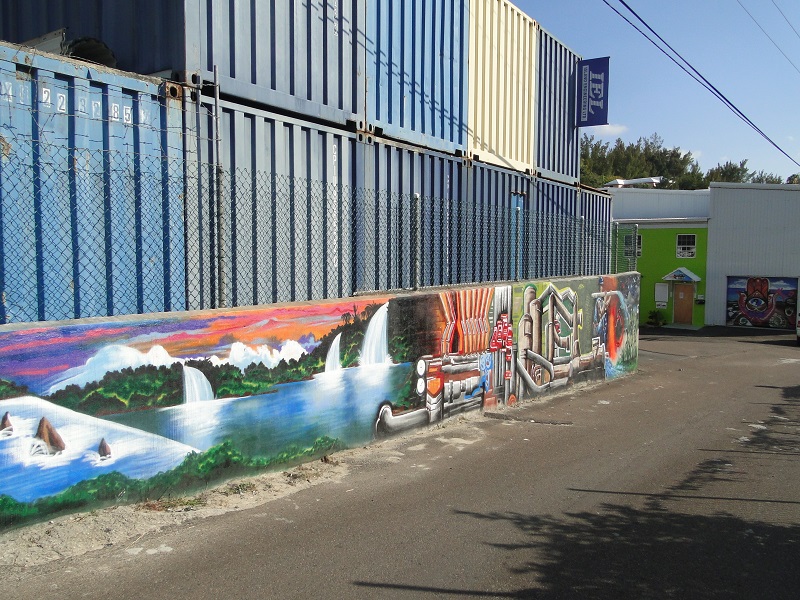 Trevino adds: "I have had the pleasure of painting murals in Mexico, Canada, England, and Bermuda. Each mural offers an opportunity to gain new skills and most importantly, meet and learn from the local community. Bermuda can benefit greatly from encouraging an urban art culture, and I don't think it will be long before we have more artists expressing themselves in public spaces."
"Working with Chewstick has made me feel confident and supported. Sometimes when you paint a public mural, you are unsure if most people will like it. Over the past few weeks I have had hundreds of people stop to speak to me, and not one person had anything negative to say.
"Having a supportive community means a lot to artists looking to create new shared spaces. I am looking forward to working with other local artists, particularly on projects that have an educational component. Bermuda is rich in natural beauty and human talent. I would like to see us explore more synergy between the two."
Program Director Mr. Tiago Garcia echoed Juan's sentiments: "The merger of industry and art is a beautiful one. These property owners have made a conscious decision to invest in culture, and we are grateful for their commitment to supporting visual public art."
Anyone interested in the fee-for-service mural program, or other initiatives being coordinate by the Community Art Program, is invited to contact the Chewstick Foundation on (441) 292-2439.
Read More About
Category: All, Entertainment, News