The inaugural Budweiser Bermuda Open Darts Championship was held on Saturday evening [May 10] at Docksider's Pub & Restaurant on Front Street.
An eclectic mix of young, old, darts novices and seasoned players battled through over 90 games of darts to decide an eventual champion.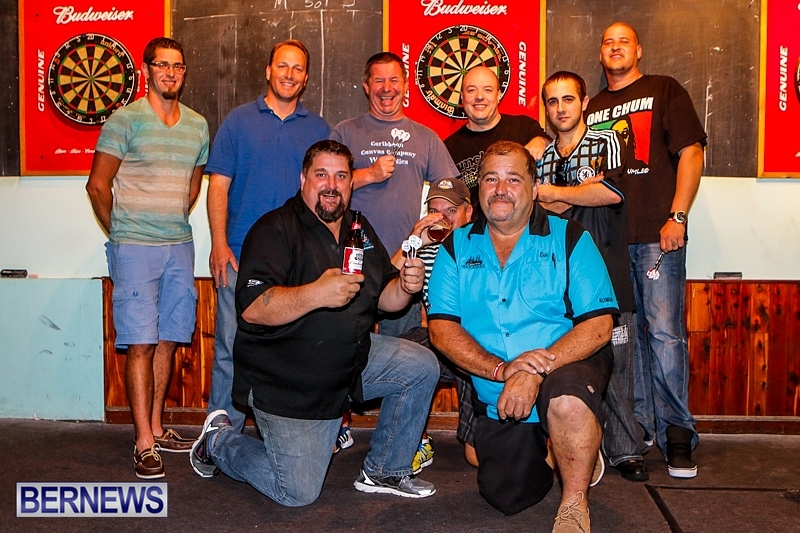 The Tournament was played using the straight in rule and double finish, from 501. Competitors shot one dart each at the Bullseye, with the throwers dart that was closest starting the 1st leg. The second player started the 2nd leg and if games were tied the two players shot for Bullseye again to determine which player started the final deciding leg.
Some awesome darts were thrown by all the competitors trying to book their place in the final, with John Orr and Richard Phillips just falling short. Richard Phillips did however win the highest checkout with a super 120 – hitting treble 20, single 20 & then double top.
Chris Nelson had the lowest dart game with 13 darts, on his way to the final. However Simon 'Stubby' Carruthers proved to be a step too far in the final. Nelson won the 1st leg, which was Carruthers's only leg against all night.
Nelson also hit three 180's in the final trying to keep Carruthers at bay, but the eventual winner hit two 180's of his own and took out 96 in two darts to win three legs to one and lift the inaugural title.
Final Standings
Champion
Simon 'Stubby' Carruthers – (Spanish Point Boat Club)
2nd Chris Nelson – (Docksiders 1)
Joint – Losing Semi Finalists
3rd John Orr – (Spanish Point Boat Club)
3rd Richard Phillips – (Sandy's Boat Club 1)
Joint – Losing Quarter Finalists
5th Marco Pacheco – (Vasco da Gama 2)
5th Ryan Kromer – (Sub Aqua Club)
5th Eric Lewis– (Docksiders 1)
5th Jim McLennan – (Frog &Onion)
Click to enlarge photos:
Read More About