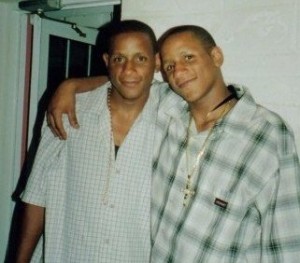 Following the conviction of Julian Washington for the murder of Stefan Burgess, the police have thanked "all the members of the public who had the courage to come forward and give evidence, without whom Bermuda would not be a safer place today."
Mr. Burgess was shot multiple times while at a residence in the Glebe Road, Pembroke area in January 2012.
His death left a mother grieving the loss of the second of her twin sons, with Stefan's twin brother Ryan Burgess having predeceased him in 2006. The twins are pictured together on the left.
Julian Washington — who himself was shot back in 2010 — was found guilty of premeditated murder, using a firearm and handling ammunition.
A police spokesperson said, "Members of the public will recall that Mr. Burgess was brutally shot and killed by a gunman who had forcibly entered a home on Glebe Road on January 8, 2012, and another man was also shot and severely injured in the same incident.
"From the outset, detectives worked to gather evidence quickly and in accordance with best practice to ensure that the best possible case was put forward.
"It would be remiss not to mention that Mr. Burgess' family members stood behind the investigative team and assisted them to work diligently on the case in order to bring Mr. Washington to face justice. Our thoughts are with them, and it is our sincere hope that this verdict will bring closure to the family and allow them to move on in some respect with their normal lives.
"Our officers who worked on the case, including the case detectives, forensic officers, and support units, worked for over two years to bring this case to fruition. The Prosecutors in the Office of the DPP also worked tirelessly to bring all this evidence together for a successful prosecution.
"The jury found Mr. Washington guilty by majority verdict of premeditated murder, using a firearm in the commission of an indictable offence, and attempted murder, and guilty by unanimous verdict of handling ammunition.
"We would like to take this opportunity to thank all the members of the public who had the courage to come forward and give evidence, without whom Bermuda would not be a safer place today."
Read More About
Category: All, Court Reports, Crime, News