The Reefs has unveiled their Days of The Week event schedule, featuring Toni Bari on Piano Mondays, Movies on the Terrace Wednesdays, Tempo Band Thursdays, Latin Chill Fridays, The Big Calypso Saturdays, and Carvery Brunch Sundays, while also introducing their new Executive Chef, Douglas Sisk.
A spokesperson said, "The Reefs takes pride in Carvery Brunch Sundays, especially having become known as "The Best Brunch in Bermuda". Now the experience can be upgraded for $89. It includes the brunch our visitors have come to love and includes bottomless pour of Moscato or Prosecco.
"In addition to the launch of these daily events, the Reefs is also pleased to offer bi-monthly Chef's Table dining and cooking classes. Starting on June 4, 2014 at Royston's, locals and visitors can dine at the Chef's table for an eight course sampler menu with wine for $95 per person.
"As of June 7, 2014, residents and guests can also book in for cooking classes at Royston's from 12.00pm to 1.30pm for $45 per person. Cook a three course meal with friends and then enjoy dining on your exquisite creations. Reservations for these events will need to be made 24 hours in advance.
"The Reefs Hotel and Club has organized daily and bi-monthly events on site for everyone, island wide, to participate in and enjoy. Having been voted Top Resort in the Caribbean, Bermuda, and Bahamas in Travel + Leisure's World's Best Awards Readers' Survey 2012, the Reefs takes great pride in opening up their hotel facilities to locals and visitors alike, offering fun event options to participate in and a beautiful place to relax and enjoy spending time with friends or family.
"Whether you prefer a classic brunch, mojitos and Latin music, or family night movies, there is something for everyone."
The Reefs' Executive Chef Douglas Sisk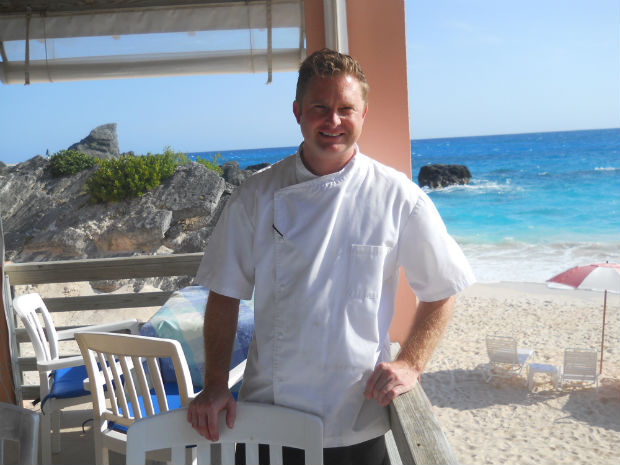 "The Reefs is also pleased to announce the newest member of their team, Executive Chef Douglas Sisk. Having appeared on many television shows and cooking for several celebrities and political figures, including President George H.W. Bush and Bill Clinton, as well as the Prime Minister of Jamaica, we believe our dining guests will be able to benefit from his 27 years of worldwide experience.
"From becoming a Certified Executive Chef for having achieved a high level of professional training and expertise to his recent certification in HACCP food safety and nutrition programs, to his 3-D attitude – direction, drive and discipline – we are positive he holds the keys to success."
Executive Chef Douglas Sisk said, "Please join me at The Reefs Resort and Club for breakfast, lunch or dinner and enjoy my culinary team's creative local fare. We take pride in making some of the most desirable dishes on the island. Let me know if I can help organize your perfect dining experience."
"Guests can experience Executive Chef Sisk's culinary talents at Coconuts, which is now open for both lunch and dinner. Linger over cocktails at the Sand Bar or dine right by the beach with stunning sunsets featuring farm and sea-to-table fare in a casual, fun atmosphere."
David Dodwell Jr. said, "We are extremely excited to have Chef Douglas join our team here at The Reefs. He comes with a wide array of experiences to draw culinary inspiration from and we have already seen some great changes to both our Ocean Echo and Coconuts menus. Guest feedback has been very positive towards the new dishes Chef Douglas has put out and we look forward to further enhancing the dining experience here at The Reefs in the weeks ahead."
The Reefs 2014 Days of The Week includes:
Toni Bari on Piano Mondays: Relax to the sounds of Toni Bari on The Reefs' Grand Piano in the lounge every Monday from 8.30pm to 11.30pm
Movies on the Terrace Wednesdays: Enjoy quality time with the family every Wednesday on The Reefs' terrace at 9.00pm for a movie on the big screen – lounge chairs will be provided and drinks can
be ordered right from your seat
Tempo Band Thursdays: Experience the musical styling of Tempo Band in the Reef's main lounge and bar from 8.30pm to 11.30pm every Thursday
Latin Chill Fridays: Enjoy various authentic handcrafted mojitos prepared from scratch with fresh sugarcane every Friday from 7.00pm to 11.30pm in the main bar/terrace/lounge. Guests will enjoy smooth Latin vibes from DJ Travis
The Big Calypso Saturdays: Every Saturday from 7.00pm to 11.30pm, visit The Reefs for dining, wine, cocktails and dancing. Playing songs from the early days of Calypso like Bermuda's Talbot Brothers, to the latest beats and tunes from Trinidad
Brunch Sundays: join us for "The Best Brunch in Bermuda" at Ocean Echo Restaurant from 12.00pm to 3.00pm every Sunday, with entertainment by Toni Bari in the main bar and lounge from 8.30pm to 11.00pm
Read More About
Category: All, Entertainment