[Written by Talbot Wilson] The New York Yacht Club Race committee will sound the first warning signal for the 49th Newport Bermuda Race off the deck of the 125 foot ketch Axia. She anchors the starting line that will stretch west to east across the mouth of Narragansett Bay.
The sail-training vessel Spirit of Bermuda owned by the Bermuda Sloop Foundation will start first in Class 0 leading the fleet to her island home as the sole boat in the Spirit of Tradition Division. Spirit will be racing her second consecutive Newport Bermuda Race, chartered this year by Bermuda businessman Jim Butterfield.
Ten minutes later, the first of 14 other classes is scheduled to start. Classes should start at 10-minute intervals after that. Class I features two regular top finishers in this 635-mile classic.
Selkie, a McCurdy & Rhodes 38 footer with past Cruising Club of America Commodore Sheila McCurdy at the helm, has come second in the St. David's Lighthouse division twice. Pete Rebovich returns to try to earn his recently rebuilt Cal 40 Sinn Fein a third St. David's Lighthouse win. Pete has had the same crew of friends and family since 2006.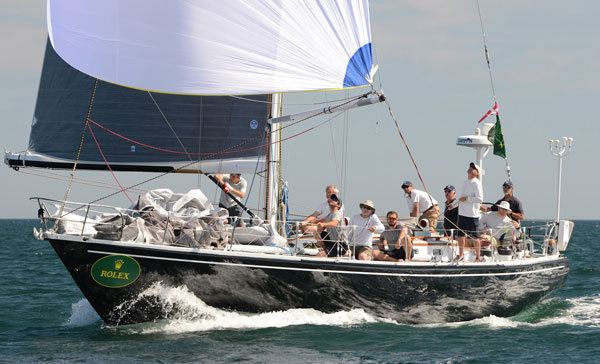 From Class 2 the spotlight will be on the Olin Stephens yawl Dorade and the Navy 44 Swift which was a top finisher in 2012. The 52-foot S&S yawl built in 1929 and painstakingly restored by Matt Brooks of San Francisco also sailed in 2012.
Class 3 features Carina, sailed by Rives Potts and his regular crew of friends. They had an excellent weekend tune-up in the New York Yacht Club 160th annual Regatta presented by Rolex, Carina has won the St. David's Lighthouse Division and the sterling trophy in the past two races. She also won in 1970 under then owner Richard Nye. If Carina wins, she will be the yacht holding the most Lighthouse trophies. She will again be tested in her class by another Naval Academy boat, Defiance, which finished second in class and second in the St. David's Lighthouse Division in 2012.
There is dock talk around the Newport Shipyard that this may be a 'small boat' race based on wind predictions. These excellent competitors in the smaller boat classes may have an edge.
The J44 boats are all grouped into Class 5. Some have added bowsprits, so there are a variety of ratings… but all close. Gold Digger's skipper Jim Bishop has 24 Newport Bermuda races under his keel. Vamp's skipper Lennie Sitar has 12. This is a class with plenty of offshore experience.
The Gibbs Hill Lighthouse Division is smaller than usual, boasting only one 8-boat class. Three mini-maxis should lead the way in a battle for line honors, first to finish on actual time. Hap Fauth's Bella Mente defeated Alex Schaerer's Caol Ila R in the NYYC Annual Regatta last week and has raced many Bermuda Races. George Sakellaris took the Gibbs Hill Division in Shockwave and that silver lighthouse trophy over Bella Mente in 2012. These three big boats should be the ones to watch.
The Cruiser and Double-Handed Divisions round out the 164-boat fleet. The cruisers boast 34 entries while the double-handers will field 21. The Double-Handed Division is filled with experienced Newport Bermuda skippers including Rich du Moulin in Lora Ann, Mireille skippered by Hewitt Gaynor and Gryphon Solo 2 skippered by Joe Harris.
Follow them starting Friday afternoon on Pantaenius Race Tracking
Yellowbrick and Pantaenius Race Tracking www.pantaenius.com/NBRtracking has made an update to the race viewer this week. The screen now displays an animated view of the Gulf Stream ocean currents. It's really cool, adding a hidden dimension to the viewer experience that tracking spectators could not see before.
Onion Patch Series
Twenty-nine of the two Newport Bermuda Lighthouse Divisions' entries are also sailing the 25th Onion Patch Series, a tough triathlon of offshore racing. These Onion Patch racers have just sailed the NYYC 160th Annual Regatta presented by Rolex in Newport and will form the core of the June 27nd RBYC Anniversary Regatta which now has 32 entries. The RBYC Anniversary Regatta is open to all IRC or ORR rated yachts over 25 feet in Bermuda. Anniversary Regatta entries close at noon on June 25th. Information is online at onionpatchseries.com and at rbyc.bm.
Read More About